Sun Hill Training Facilities
Sun Hill offers everything a racehorse trainer could want; its 50 acres are set in the most beautiful of surroundings amidst quite country lanes. Ann designed the yard to her own specification, including the top class all-weather gallop, helped by George, who maintains it is "as good as any I have ridden on".
"It has taken us fifteen years to build up our facilities, in order for them to be among the very best".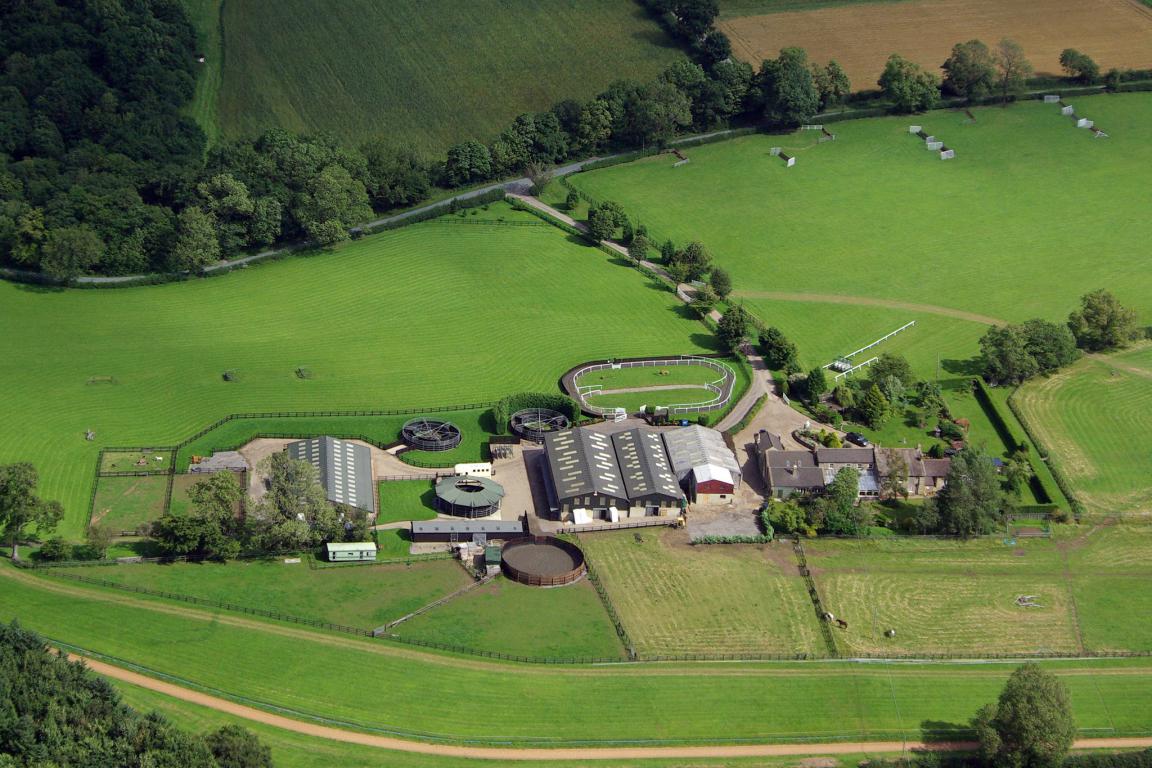 Website - At the begining of 2016 we put together this website. A feature designed to keep our owners in the loop is the 'Owner Login' facility. If you're new to the site and would like to see an example of the facility afforded to our owners, please use the following username & password via the Owner Login button (found top right of homescreen) to access the 2016 season page for CHANT & CUPPACOFFEE by kind permission of Mrs Ann Starkie. Her horses both won races in 2016.
Username & Password both 'adr'
Round Canter – a fibre sand canter of just over one furlong, joining on to the main gallop, perfect for warming up prior to galloping on the main gallops, or for horses having a slower, stress free training session. The nature and layout of the canter is also invaluable for young horses, helping to settle hard pullers and for providing much needed experience on how to tackle bends and different cambers present on every one of Britain's unique and diverse racetracks. (Musselburgh racecourse bend depicted below).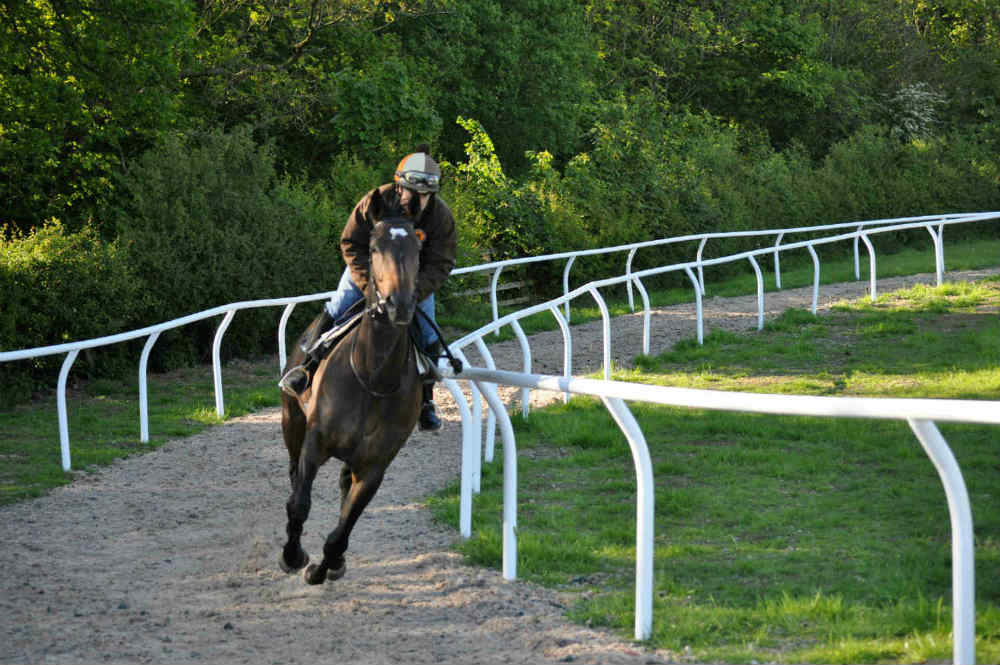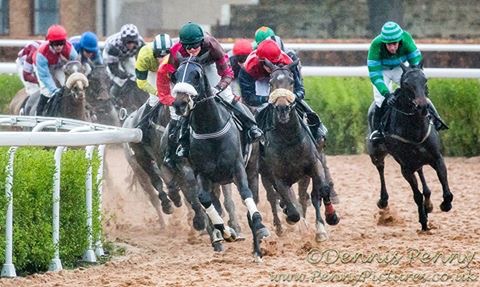 Woodchip all-weather hill gallop – 5 furlongs climbing over 140feet. This gallop is our secret weapon in preparing horses to race. It as an exceptional gallop and a top class facility to have. The steady but tough climb is perfect for interval training and fast work, while the watering system runs alongside it allowing us to keep the woodchip wet in summer months.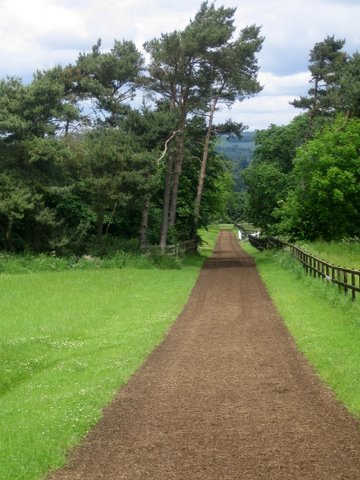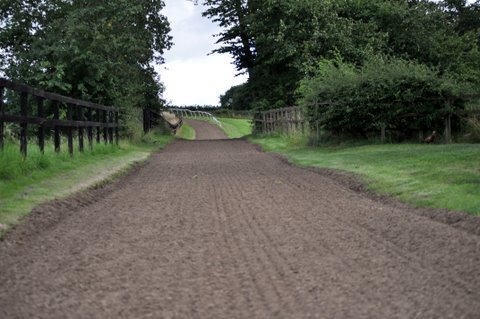 Grass - Extensive 6-furlong grass gallop climbing 150 feet. Our grass gallop is well established, old pasture land. The thirty-five-meter-wide strip of grass runs alongside the all-weather gallop and the top section climbs an extra 10-15 feet up the steepest part of the hill. The grass gallops can be watered at the same time as the all-weather or separately.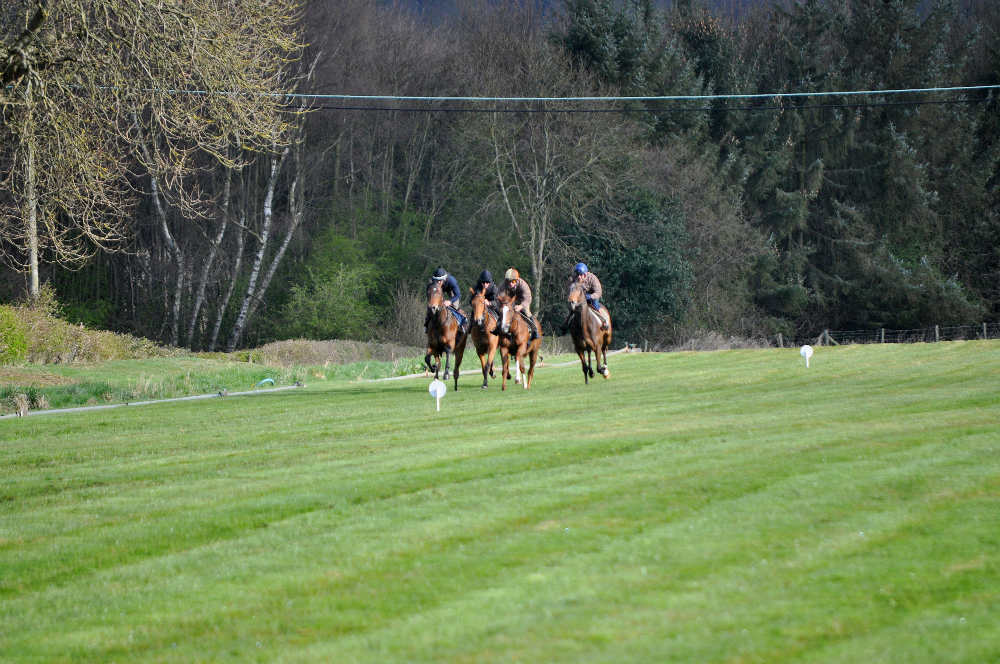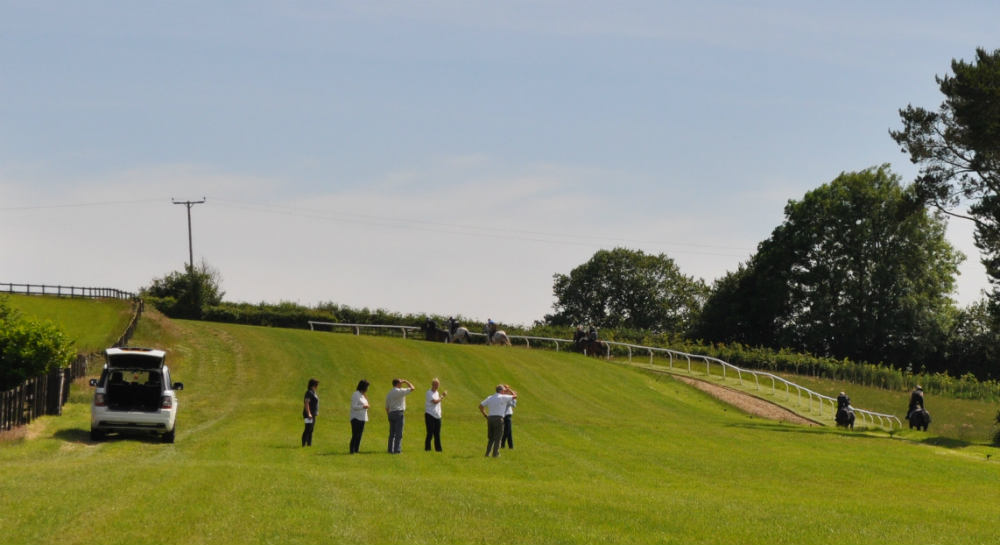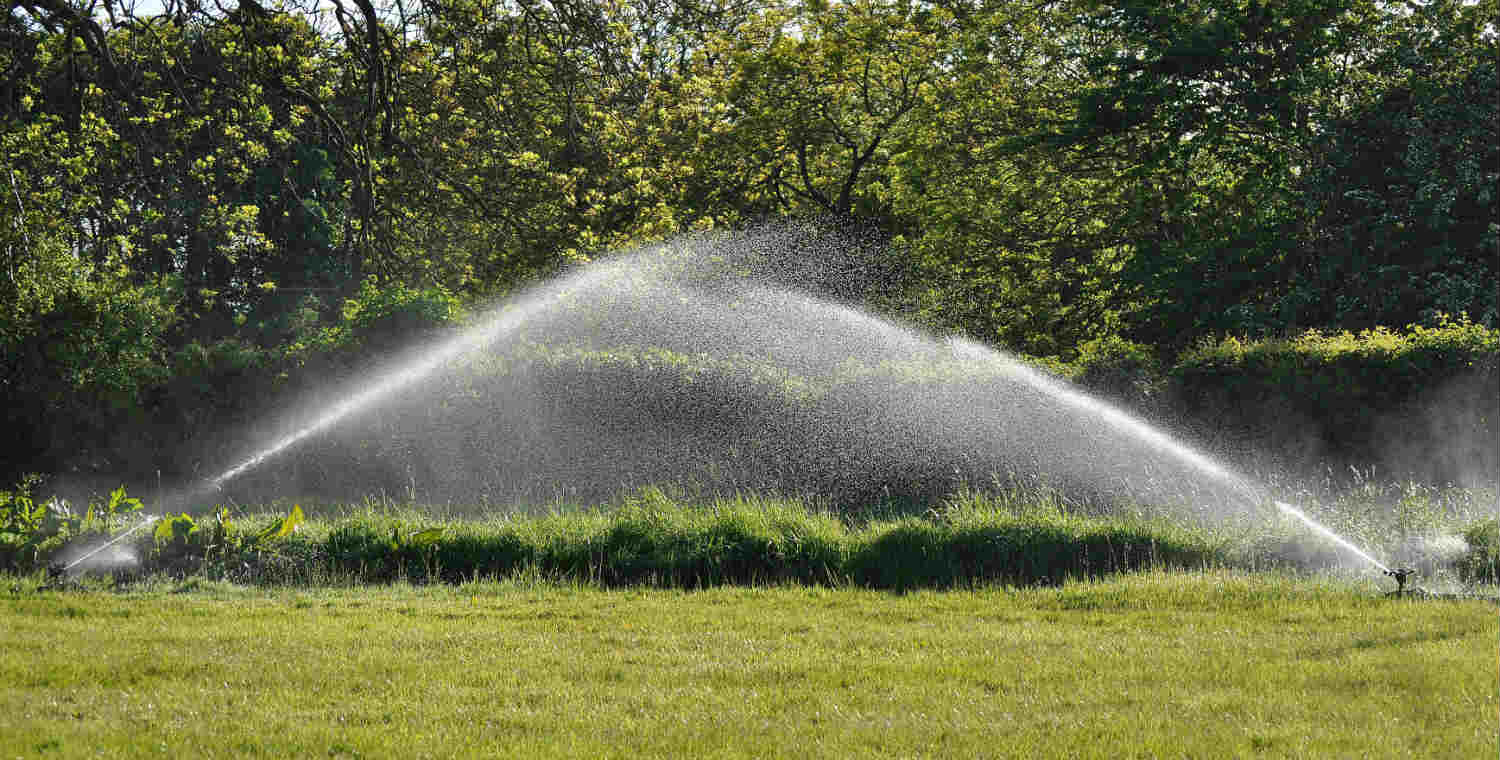 Stables - Purpose built stables in American barns, constructed with extra height to allow for more ventilation, featuring metal sliding gates for added security and continuous airflow. We have 65 boxes at Sun Hill in all, including 7 isolation boxes and a further 20 boxes at Bradley's farm, less than half a mile from Sun Hill.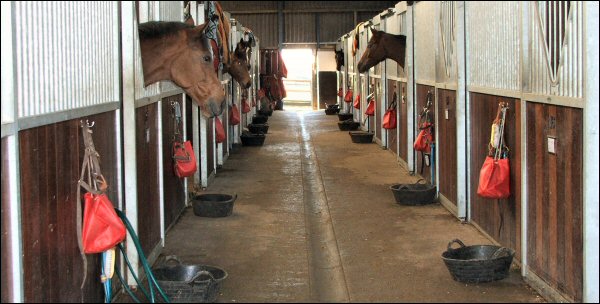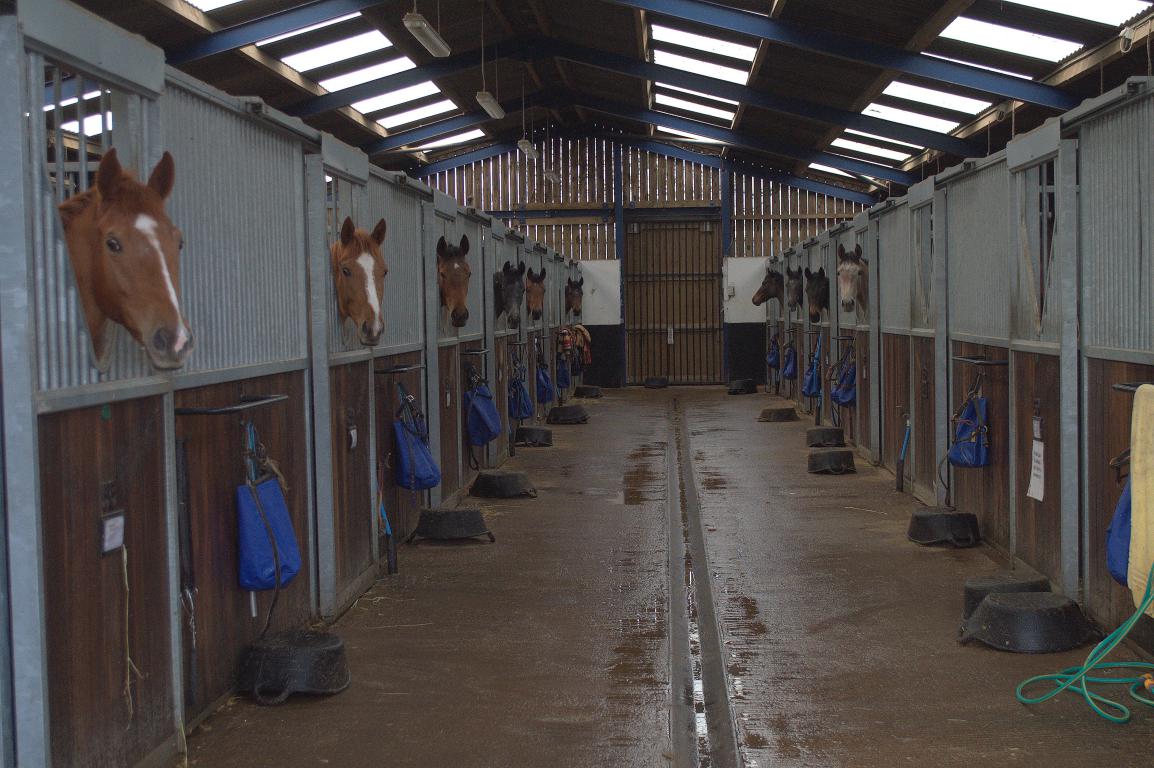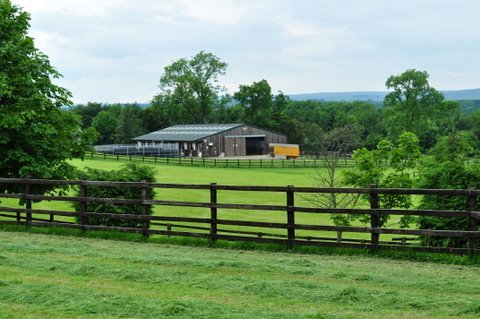 Equilux Performance Lighting - all of the barns have been installed with a special lighting system designed to maximise health, growth and performance, harnessing all the benefits of natural daylight for stables horses, encouraging the production of the vital hormone "Seratonin" with subtle red nightime lighting encouraging the production of the all important hormone "Melatonin". This amazing lighting system has been designed, and shown to achieve the following benefts
• Improves growth and development in young stock
• Increases muscle response to exercise
• Improves daytime alertness
• Permits undisturbed night time rest
• 'Astro' timer automatically reflects seasonal changes in day length
• 'Astro' function extends season of peak performance
• Reduces microbial concentrations in stables
For more info please visit the website www.equilux.ie/
Three horse walkers (one covered) - all with rubber floors. Walkers allow us to exercise up to 18 horses at any one time in a safe and controlled environment. They are an excellent tool for training horses at every stage and for gentle exercise when returning from injury. We use them daily for warming up and cooling down in particular.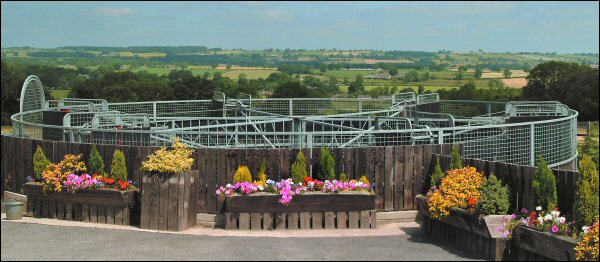 Lunge ring - our lunge ring is useful for lunging our yearlings during the breaking in process and also for long-reining them in a safe, enclosed space. Lunging is also great for 'taking the edge off' of a fresh horse or for aiding a horse that is coming back from injury and isn't quite ready to be ridden yet.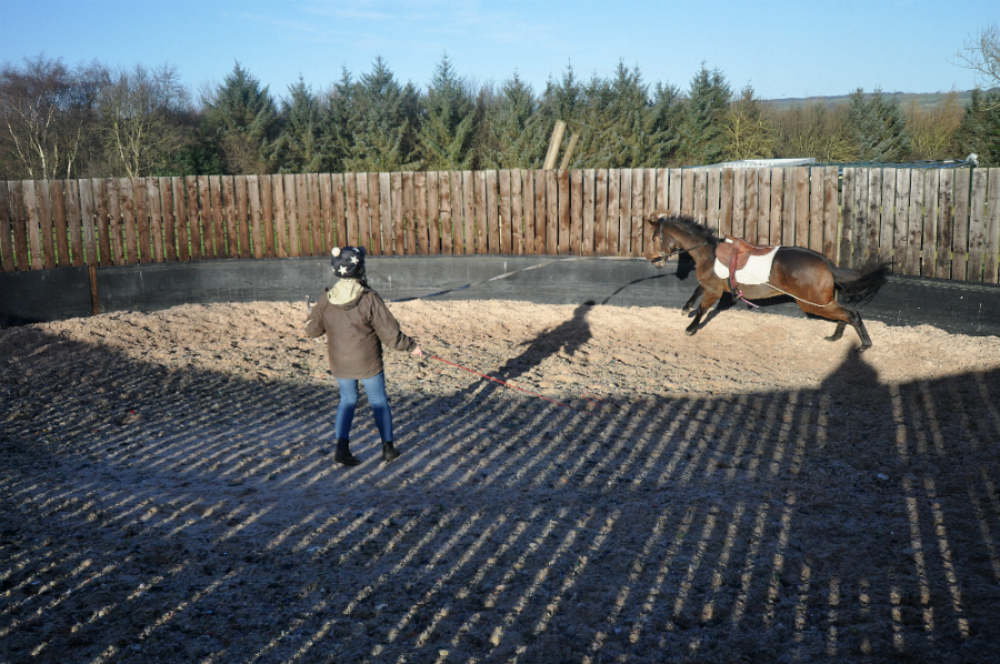 Weighing machine - the "weighbridge" allows us to effectively monitor horses weight, before and during training and throughout the season so that we can monitor when a horse reaches their "optimum" racing weight.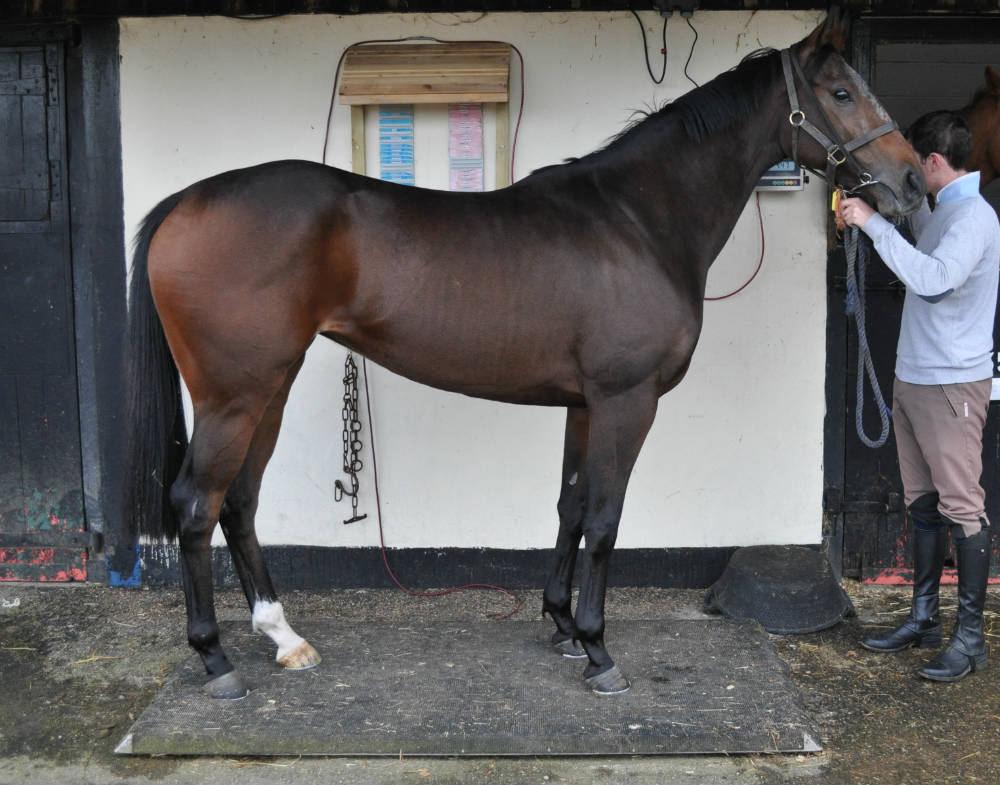 Underwater Treadmill - New for 2016. The underwater treadmill builds condition and core strength more quickly and effectively than any other training medium. Horses walk or trot in very cold water with large doses of Epsom salts added. The treadmill not only builds core strength and fitness throughout the horse's body but it also helps them naturally lengthen their stride pattern and develop muscles symmetrically. The water reduces concussive forces allowing the safe strengthening of muscles, tendons and joints, as well as being a great aid to fitness training it also dramatically reduces the risk of injury and improves recovery times by about 50%.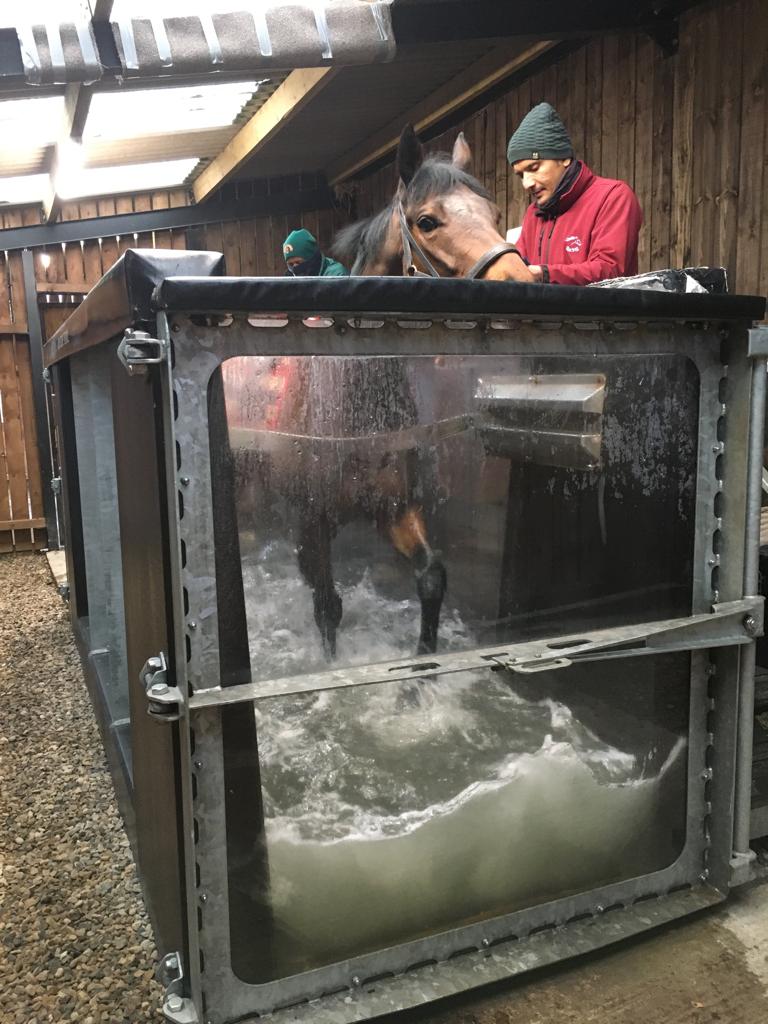 Heart Monitors - The use of heart monitors enables Ann to study the horses after they have worked, the heart monitor collects data such as heart rate, speed the horses is travelling at throughout the piece of work, the horses stride pattern and recovery rate. It is particularly useful for identifying a non trier (often this is a colt who needs the snip) and if they are starting to feel low and under pressure.
Solarium - this can be used solely with infra read lights for penetrating and relaxing muscles or in conjunction with the Ultra Violet lights which mimic natural sun light - great for a horses wellbeing. Used together they produce a warming, relaxing environment which eases any soreness from the muscles of horses in hard work and are a great aid to helping horses maintain tip top condition.
Vitafloor - This is situated in the solarium box and the two are often used in conjunction. The Vitafloors vibrating floor increases and regenerates bone density (studies on humans have shown the increase to be up to 20%). It stimulates the blood flow throughout the horse's entire body, is a non-invasive treatment helping with soft tissue injuries, joint and muscle soreness and significantly reduces recovery time from injury. We've also found it to be incredibly effective on horses starting with colic.
Turnout paddocks and safety pen - Horses are regularly tuned out in our paddocks or the larger fields. All paddocks are post and rail and we also have a safety pen.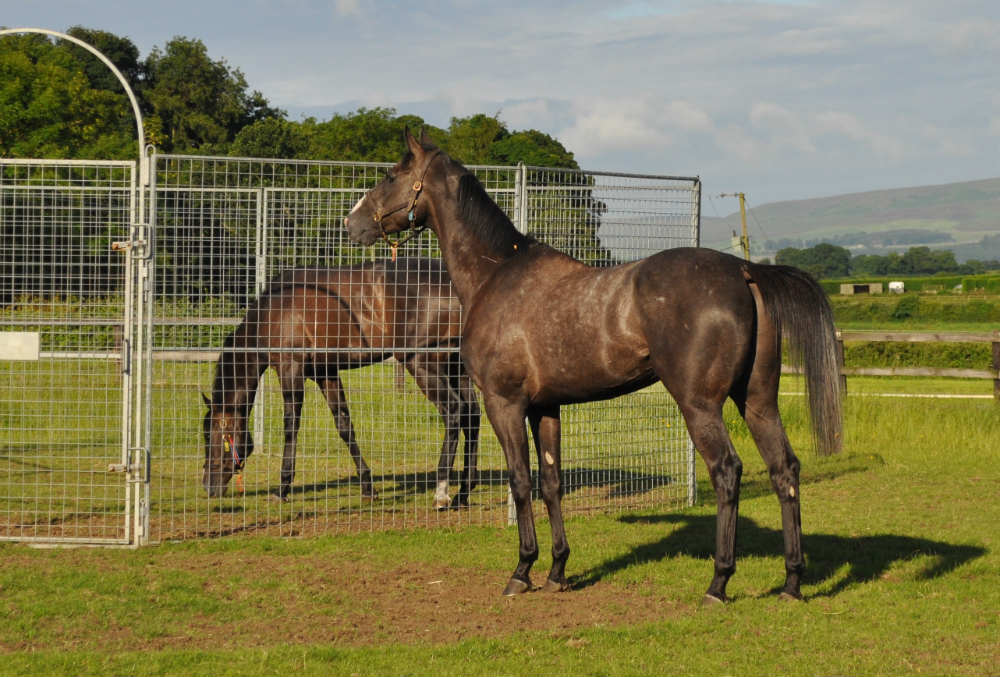 Starting stalls - We have two sets of stalls; one set is used to drive horses through the gates when they are being broken in (our horses are ridden through them daily in the Spring and throughout the year where necessary). The 'yard' stalls are used for all initial introductions to the gates and for teaching horses to adapt to standing still when locked in them. The second set are used for horses who are ready to learn how to "jump" quickly and in the company of other horses.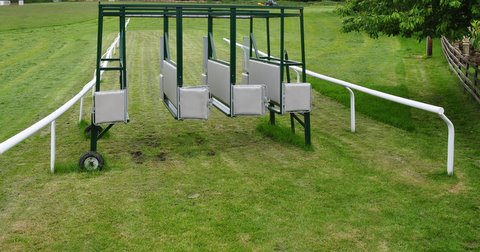 The 'melling road' is a a useful tool in getting horses used to road crossings that can be seen on many tracks across the country.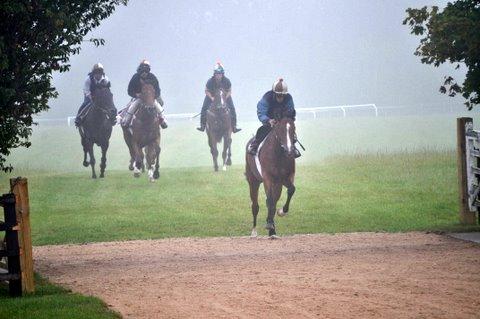 Parade ring – edged in white railings as seen at the races, every lot gathers together in the mornings prior to morning excercise to be checked over, loosen up and for the riders to receive instructions. We also lead our yearlings around here to give them a taste of what they can expect when they get to the track and we parade them here at our annual Yearling Parade.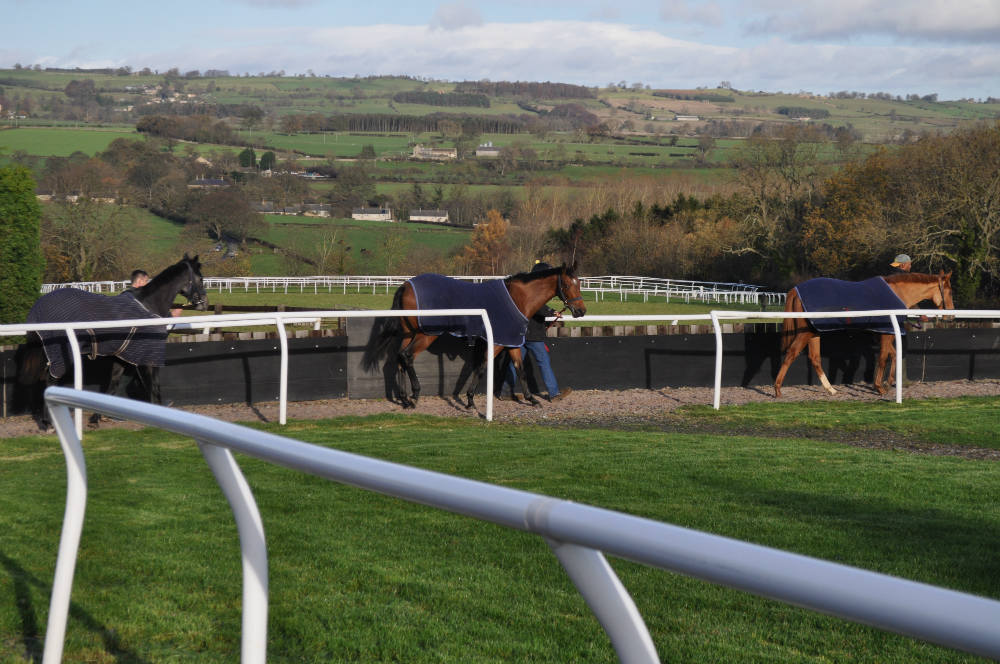 Transport – We have two, top of the range two-stall boxes, both made by Theault, purchased in 2015. Ensuring horses and staff have a safe, comfortable and fully air conditioned journey. A loading ramp is also situated on the yard. We also operate a transport scheme offering owners the opportunity to "forward purchase" miles at a much reduced rate of £1.00 per mile. Minimum payment towards this non refundable scheme is £1,000 plus vat. Please ask for further details.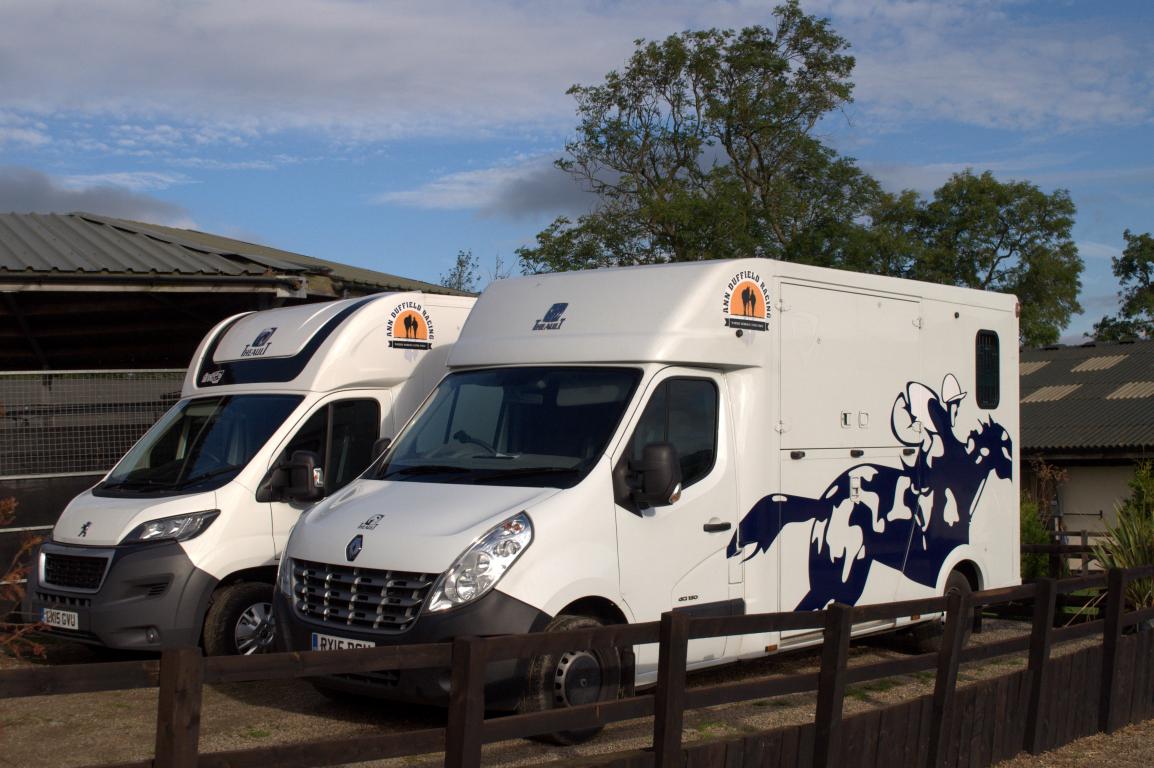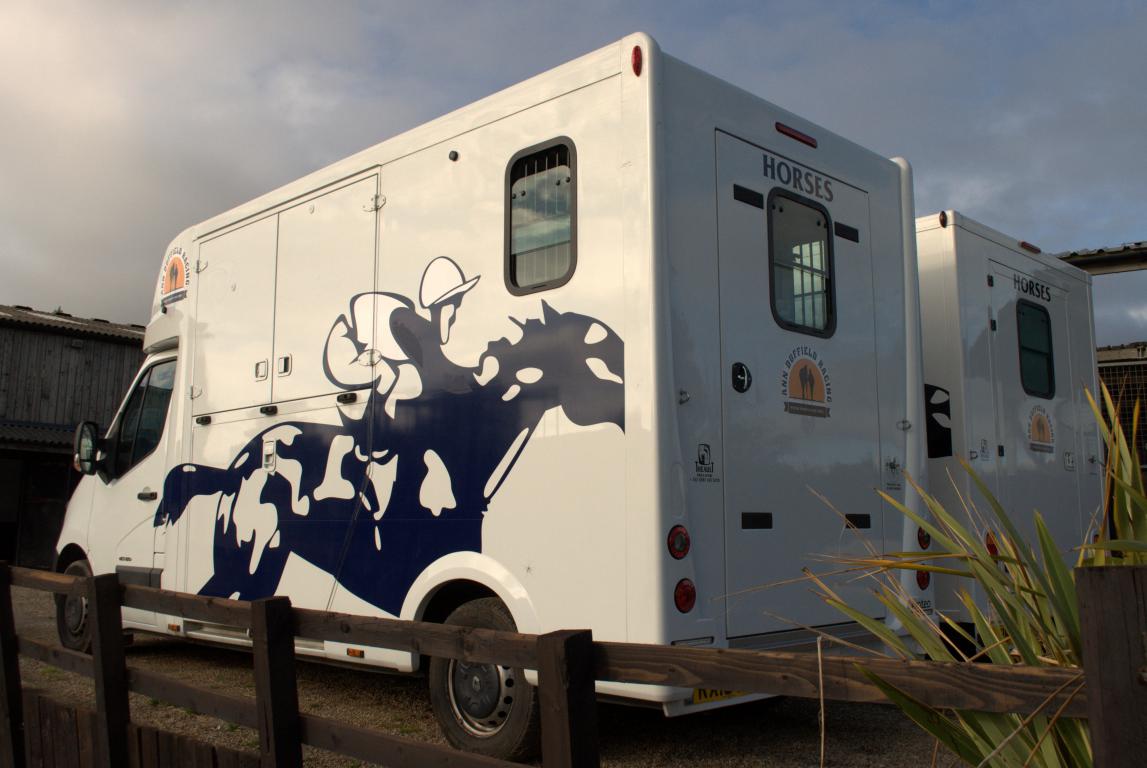 Schooling facilities - For the occasions when we do have jumpers or simply because a flat horse might enjoy something new, we have a lane of small telegraph poles, hurdles, steeplechase fences and cross country fences.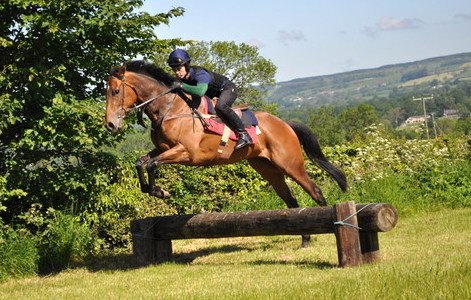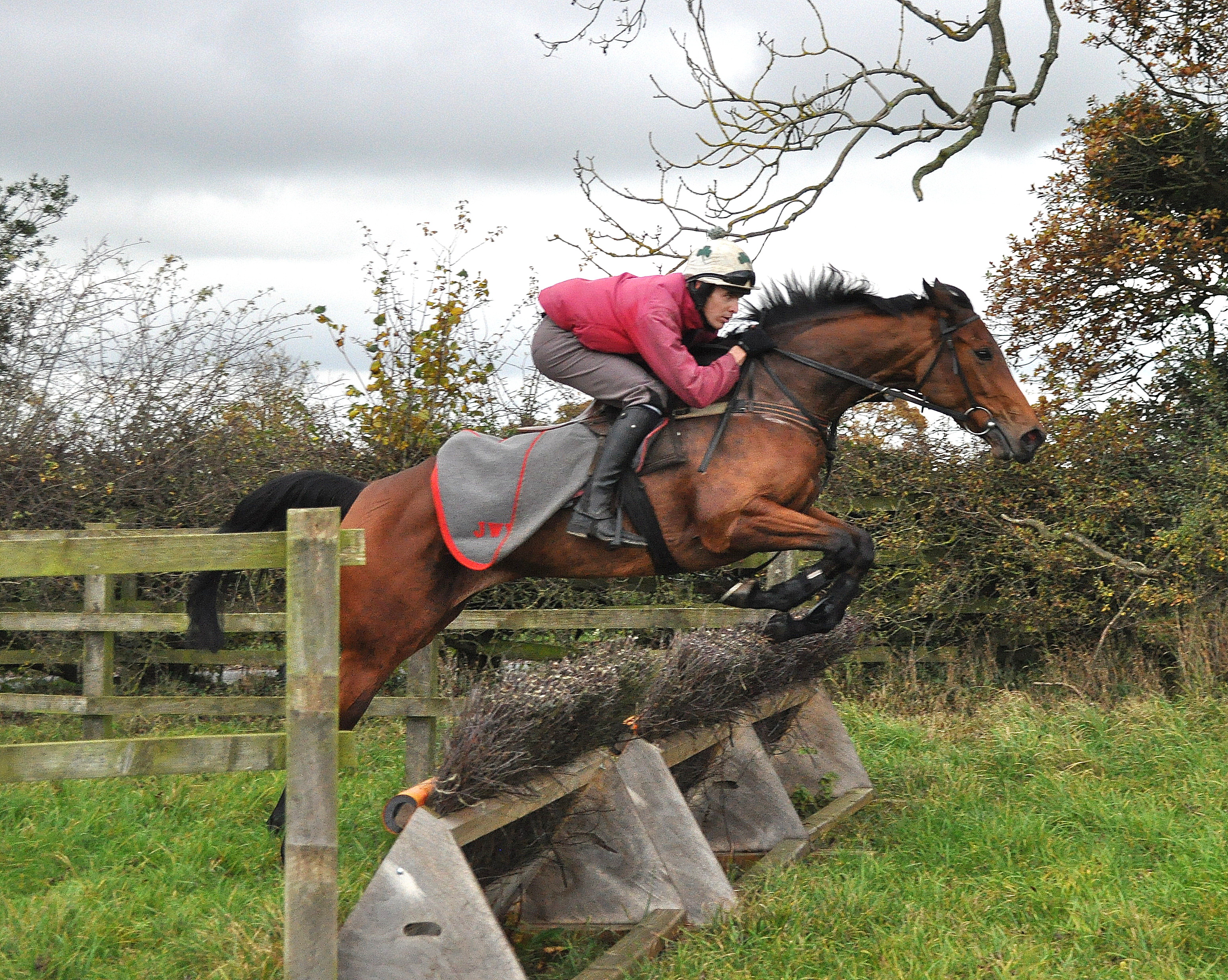 Haygain Steamer – While our hay and Haylege is top quality - and regularly tested, we do find the steamer to be a useful tool for steaming hay for horses in fast work or racing at a time when they may be susceptible to allergens such as a high pollen count in Spring or early Summer. It is particularly effective for horses who suffer from dust allergies, COPD or are simply slightly sensitive. Steamed hay is often fed when in conjunction with using the Transpirator.
Transpirator – is the "horse inhaler with a difference". While musculoskeletal issues are the biggest issue for trainers, the horses respiratory system is a close second for limiting a racehorse's performance and chances of success on the race track. Improving pulmonary function by removing airway obstructions will improve a horses ability to get more oxygen where it is needed and the Transpirator is unique in that it can be used daily with Silver Microbial fluid and distilled water to produce heated humidity which penetrates the lungs effectively lifting any airway obstructions and helping the lung to regain peak performance. Drugs are not used so horses can use the machine close to racing.
Bradley's Farm - Over at "the farm" we have use of a further 20 boxes at our disposal, a horse walker, large lunge ring, Olympic size all weather outdoor – floodlight ménage & turnout paddocks. This is where all our 'breaking in' is done, we also use the yard for isolating new arrivals, and as an overspill yard when needed.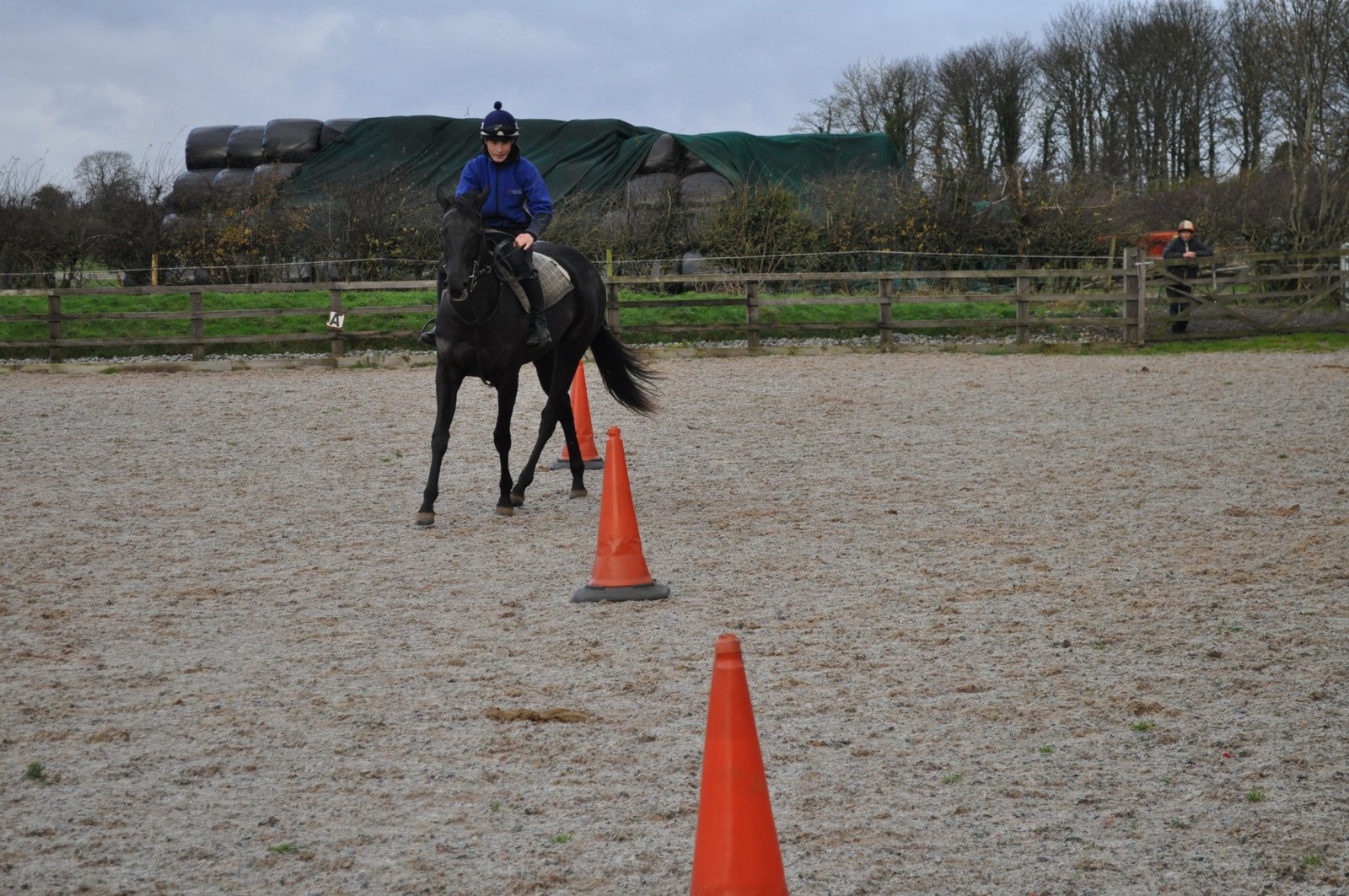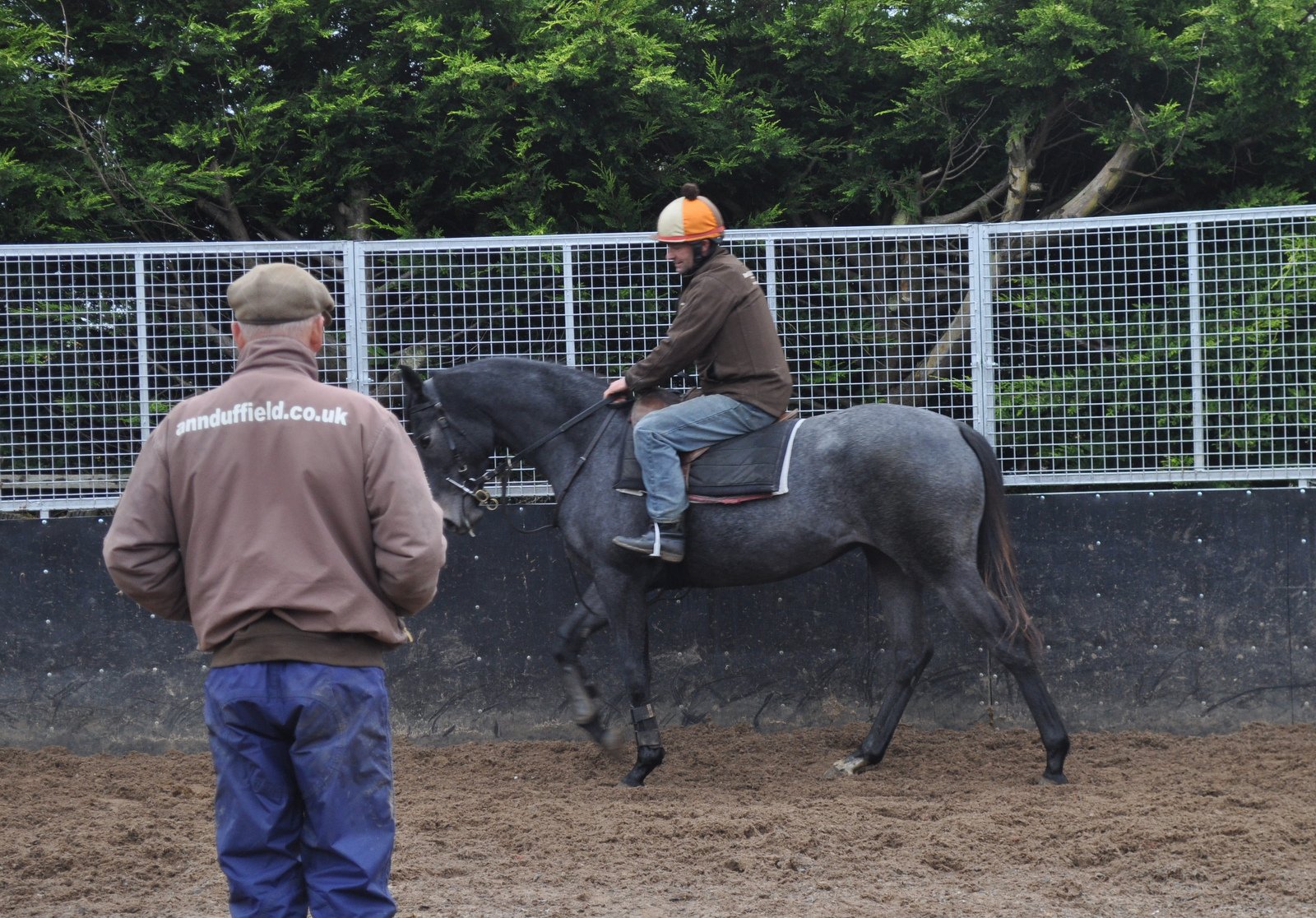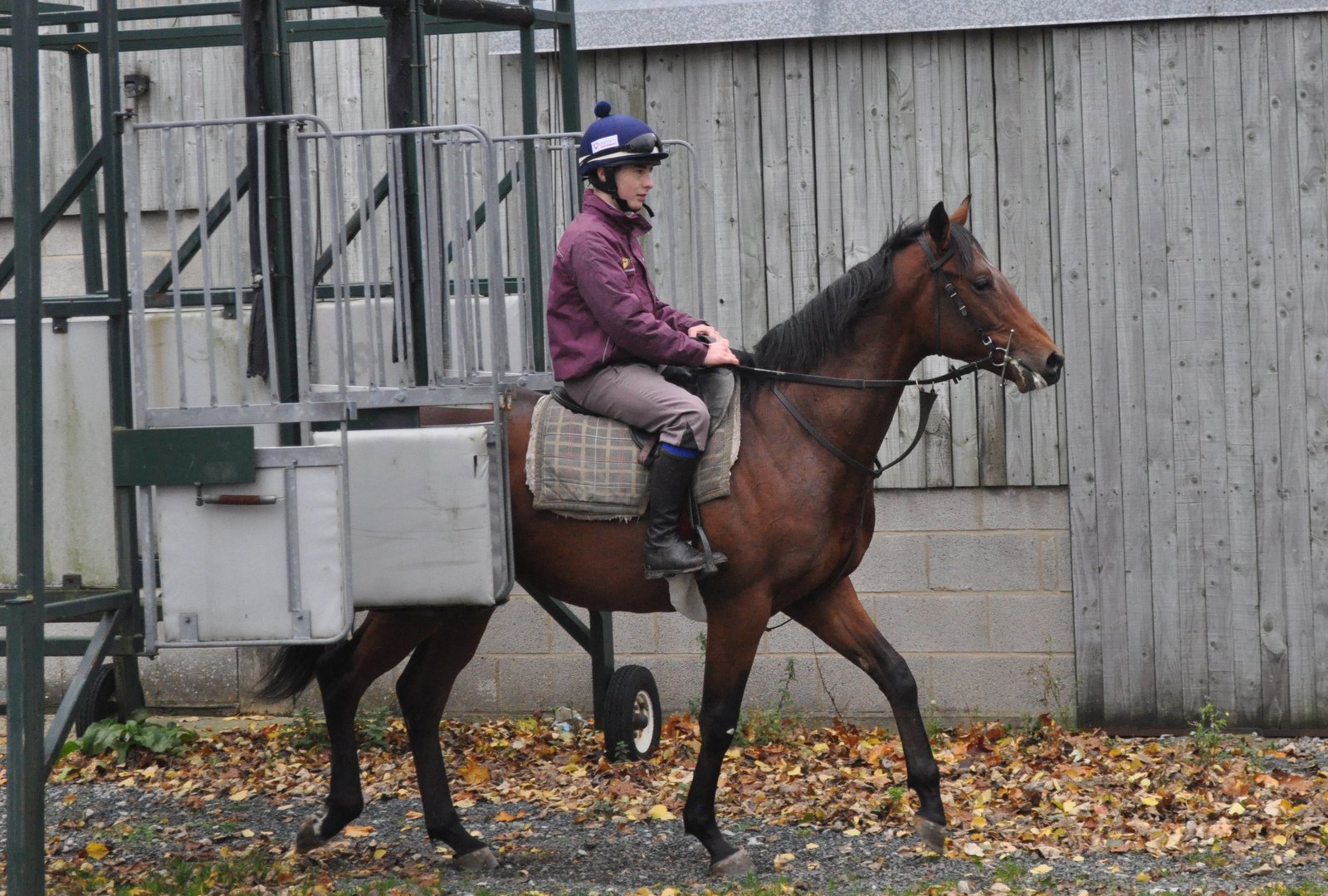 CCTV - we have extensive CCTV cameras at Sun Hill which monitor activities both inside and outside. This has been a valuable addition to Sun Hill, not only in terms of our security but it also helps us with staff training and allows us to carefully monitor the horses at all times.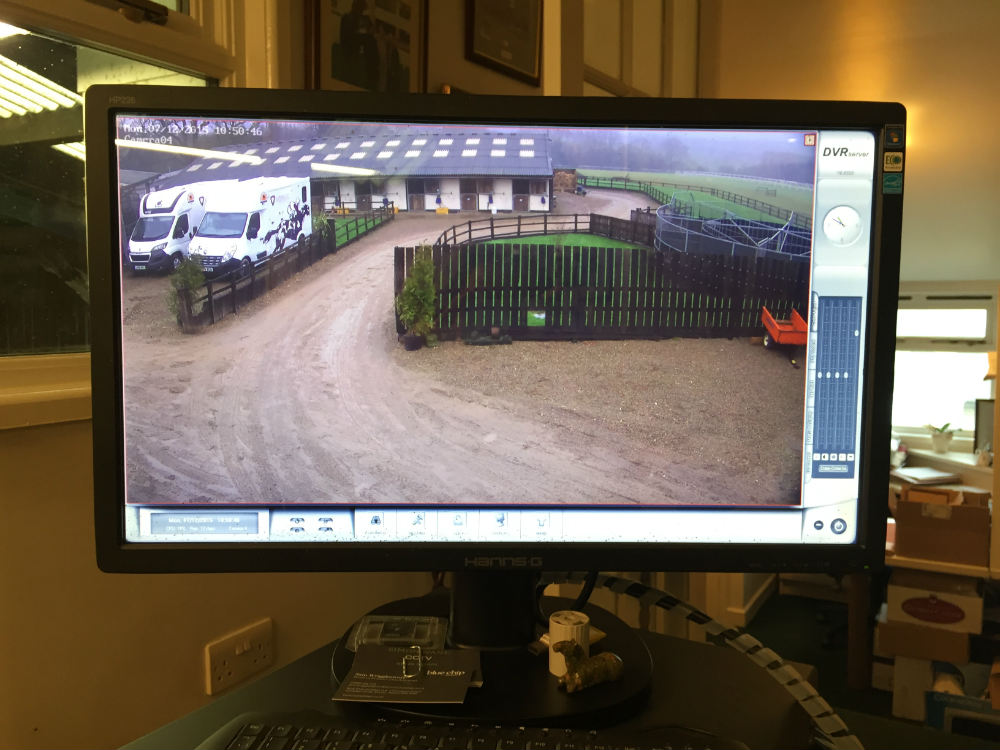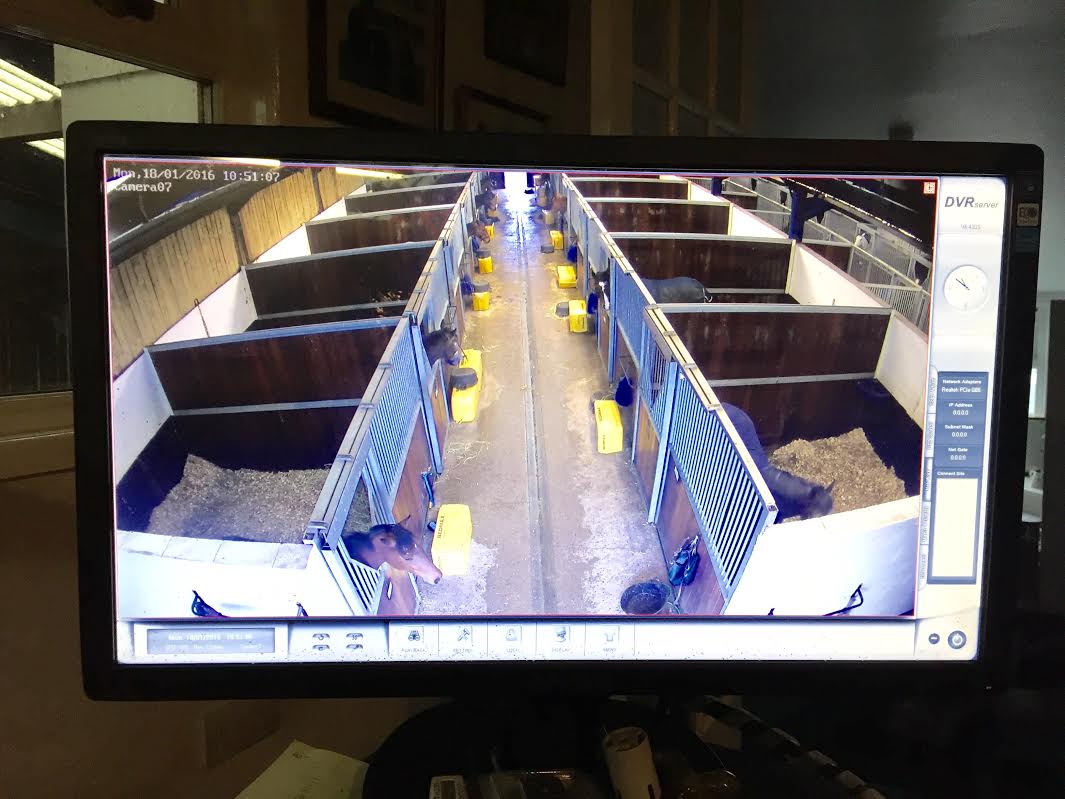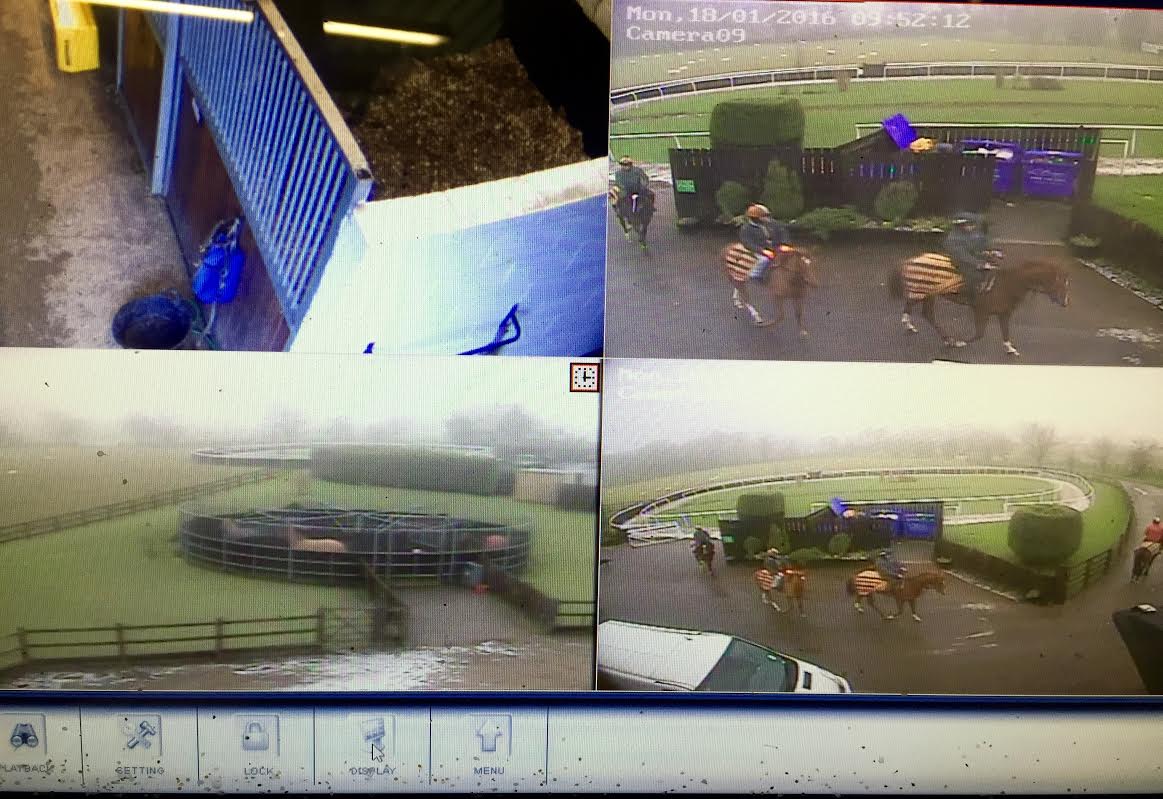 At Sun Hill we are big on cleanliness and hygiene and our "Bio security" is taken very seriously. We undertake regular steam cleaning and disinfecting of the whole yard using specialist disinfectants designed to kill all bacteria, funguses and mycotoxins. Regular swabs and samples are taken for lab testing against mycotoxins and funguses, while water quality, bedding, feed and all forage is also thoroughly tested.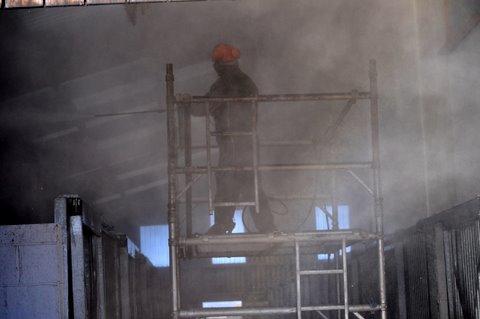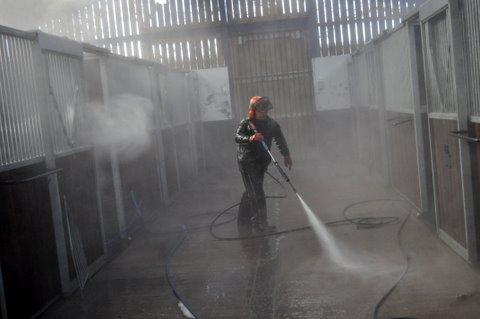 The tack room also houses a huge industrial washing machine and a network of heated pipes, used for washing and drying rugs, girth sleeves, saddle cloths etc. Each horse has it's own bridle and girth, and the saddle clothes and girth sleeves are changed after every lot.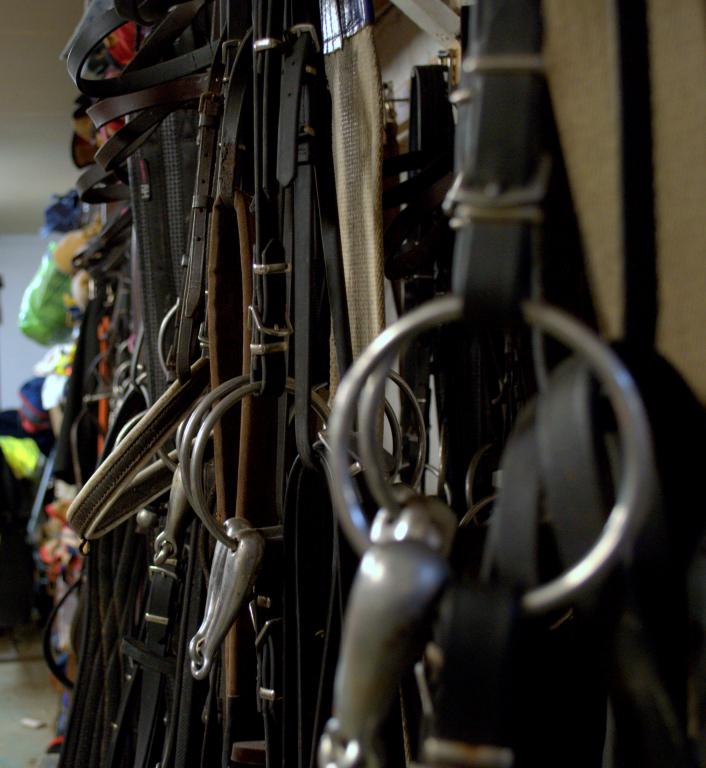 Please view our Galleries for more photos of our facilities in use.