Many Clouds - The Truth...
31-January-2017
31-January-2017 17:49
in General
by Admin
by Hayley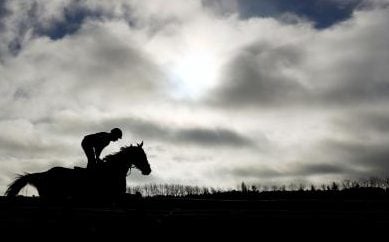 The highs and lows of sport are extreme, and horse racing is no exception. Bipolar emotions that have you flying sky high on cloud nine, only to find yourself crashing cruely to earth moments later. This was the case for connections of the enigmatic 'Many Clouds' on Saturday, when, after beating the most exciting horse in jump racing 'Thistlecrack' he devastatingly lost his life. Grand National winning Many Clouds suffered a cardiac failure as proven by a post mortem that was initiated by the BHA. Cardiac failure in racehorses is rare - 'The fatality rate within Jump racing for horses suffering from cardiac failure is just 0.048% of runners. The overall fatality rate within British Racing has decreased by 1/3 in the last 20 years owing to the sport's significant ongoing investment in equine health and welfare'. It is necessary that anybody entering into the racing world, or in fact any equestrian sport, faces the fact that whilst it is deeply sad and upsetting these things do happen. Many Clouds was found to have no underlying health issues, he was fit and healthy and showed no sign of post-race ataxia. Cardiac arrest, although rare, can occur in any horse; fit or unfit, at rest or after exercise, in any discipline, at any time. Tradgedy has no prejudice.
It must be stressed that racehorses are so well looked after. It is our responsibility to feed them well, get them fit enough to not only do themselves justice but also to minimise the risk of injury and to give them the very best of everything, especially quality medical care. Racing is the most regulated fraction of the equestrian world and The BHA have you jumping through hoops if you want to train and rightly so. The many millions invested by racing into sports science benefits horses and ponies across the equine spectrum - money that buys science, veterinary knowledge and gives accessibility - all that simply wouldn't be there if it were not for racing. In the case of cardiac arrest, Tony Welsh, acting Chief Veterinary Officer for the BHA, said,
"In spite of the rarity of these incidents, as a sport we are determined to do more to understand what causes this symptom, and whether more can be done to prevent it. Several studies have been commissioned, as part of the £32million-plus invested in veterinary science and research by the sport since the year 2000. The overall fatality rate in British racing has fallen by a third in this period."
Racing is completely transparent, we are strongly regulated, experienced and educated in the care of horses and as demonstrated above we strive constantly to better our knowledge and understanding so as to give our horses the best life possible. The real danger is in other 'un-vetted' areas of the equestrian world. They don't have to pass any inspections or sit any tests before they can go out and purchase a horse or pony. They don't have to prove their knowledge or apptitude for animal welfare. They are often blissfully ignorant to their horses needs and even with the very best of intensions are unwittingly causing their horse discomfort and unhappiness. It all comes down to education and the horse racing industry is clearly doing it's bit to help horse owners across the board look after their animals.
It hurts when the implication is made that racing folk don't put the horses welfare first, because the truth is we love our horses. Racing is not an easy way of life, it is early mornings, late nights, 24/7, three hundred and sixty-five days a year, come rain or shine. You do not opt to work with horses unless you utterly adore them. You dedicate your life to them, and I for one, wouldn't have it any other way.