Selling - a fond farewell
28-October-2016
28-October-2016 11:00
in General
by Admin
If buying yearlings gives me a great buzz and breaking in, training, nurturing and finally training them to win gives another, an equal or perhaps even bigger buzz comes when you manage to sell them "well". Every year practically for each of the past ten years or so we have managed to sell at least one horse "well" or even "very well" depending on your idea of how well a horse is sold.
But given that A/ the vast majority of racehorses never win, B/ many don't get to the track as juveniles and C/ in the main a great deal of money is lost as opposed to gained, trading carefully, buying and selling the right types, at the right time and ensuring your owners are well advised is paramount. Thankfully we have been pretty good at it and, for those owners willing to trade they can end up having a lot of fun for a lot less money and, some very large returns on initial investment are possible. Without question "Sun Hill" would not be the yard it is now without trading efficiently and reaping the financial rewards from doing a good job.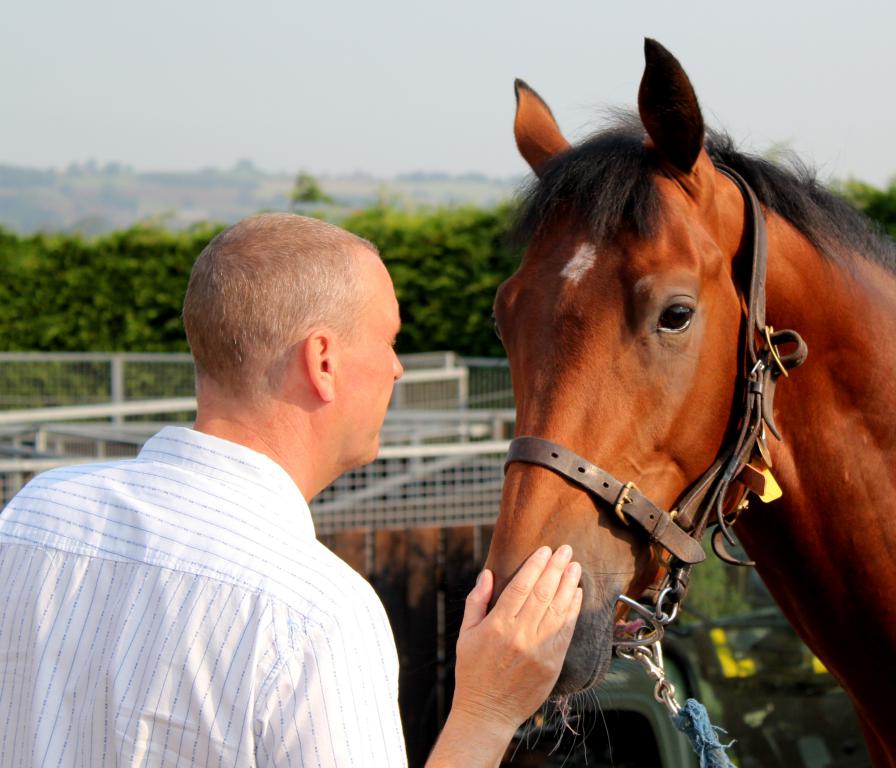 Owner Craig Buckingham with Rainbiw Mist
Racehorses for sale in their droves might make way for new blood coming through but we were still sorry to see Rainbow Mist, Cuppacoffee and Danzeb sold at Newmarket's Horses in training sale but, at least they all sold well. This sale is " The" premier sale for horses in training and, securing a "good place" in this excellent but ultimately huge cataloque (one thousand two hundred plus horses) is like gold dust. "Rainbow Mist" was a twelve thousand pounds yearling purchase twelve months ago and made six figures in the ring on Wednesday night, bought to race in Hong Kong. He had earned a rating of 100 and after winning on his debut and again at York before running some great races in Group and Listed company. He gave his owner Craig Buckingham a lot of enjoyment and several "firsts" - his first two year old/ debutant winner, first runner and winner at York racecourse, first runner in Group company and first runner in France in a Listed race. Craig has already reinvested in eight more yearlings as we set out to repeat or hopefully perhaps better, this years achievement for him.
Cuppacoffee made fourteen thousand which was not a huge price but nevertheless he has repaid his owners handsomely in fun, prize money won and now resale but, given his size and type (he is quite small) it was understandable that he didn't make make much more. A winner of two this year he heads off to race in Spain where I am sure he will do well and his owners are keen to replace him with another yearling.
Danzeb made a good price too considering he was offered for sale on Thursday morning when many of the big buyers had left when he fetched twenty five thousand pounds to race in Kuwait. It was a decent price for a winner of one race with lots of places and rated 60, but there was no doubt he had shown enough recently to confirm his wellbeing and his promise of more sucesses to come. His owners are delighted and looking for his replacement already, no doubt with the yearling parade around the corner they will be concentrating hard on the choices on offer.