Chirstmas Turkey
12-January-2016
12-January-2016 10:13
in General
by Admin
The Christmas period is over in the blink of an eye and all that remains are the after-effects of too much turkey, the big day passed as quickly as it arrived with no hiccups, no power cuts and no problems. Ten of us enjoyed lunch accompanied by lots of laughs. As well as friends and, of course AJ. Head man James came along with his lovely girlfriend Amanda, Janos and Mick also joined in after the three of them worked hard on the yard all morning and, as luck would have it I managed not to poison anyone which is just as well or I would have had all the mucking out to do myself. We operate a skeleton staff over Christmas so work is kept to a miniumum for two days, although those in work did canter and use the treadmill on Boxing day. We still have a few yearlings with the tail end of ringworm, snotty noses and the odd high temperature (I am very grateful they have been kind enough to have all that in winter, sometimes the little darlings wait till the new season arrives) so I went around checking those boys and girls before doing the Sun Hill lodge's hot tubs because staff on that side of the operation were also off. Jeannie gave me a hand testing all the water in the tubs, topping them up along the way and on occasions feeling like jumping in. Later this week sees the return of several staff who took holidays over the Christmas period so things will get back to normal pretty soon.
"Charlie" the eight week old guard dog in training, spent Christmas doing all he can to wreak havoc, he has been on lots of 'search and destroy missions', mostly shoes, wires, table legs, office furniture, and various items of clothing. When he isn't operating under cover he is clinging on to trouser legs or wellies as you walk, dive bombing Harry or eating his way through entirely inedible random items, one of his favourites so far has been the small prawn shape poystyrene packaging out of hampers. Although I am certain Royal Canin puppy food must taste better.
Uncle Harry has been driven to distraction by this feisty little so and so and has started to object verbally. He is struggling to come to terms with why this little imposter weighing some 45 kilos less than he does, dares to argue back. In fact Charlie not only argues back, he leaps on Harrys back and head regularly or swings off his tail - totally ignoring Harrys rage. Charlie is a real character and utterely adorable.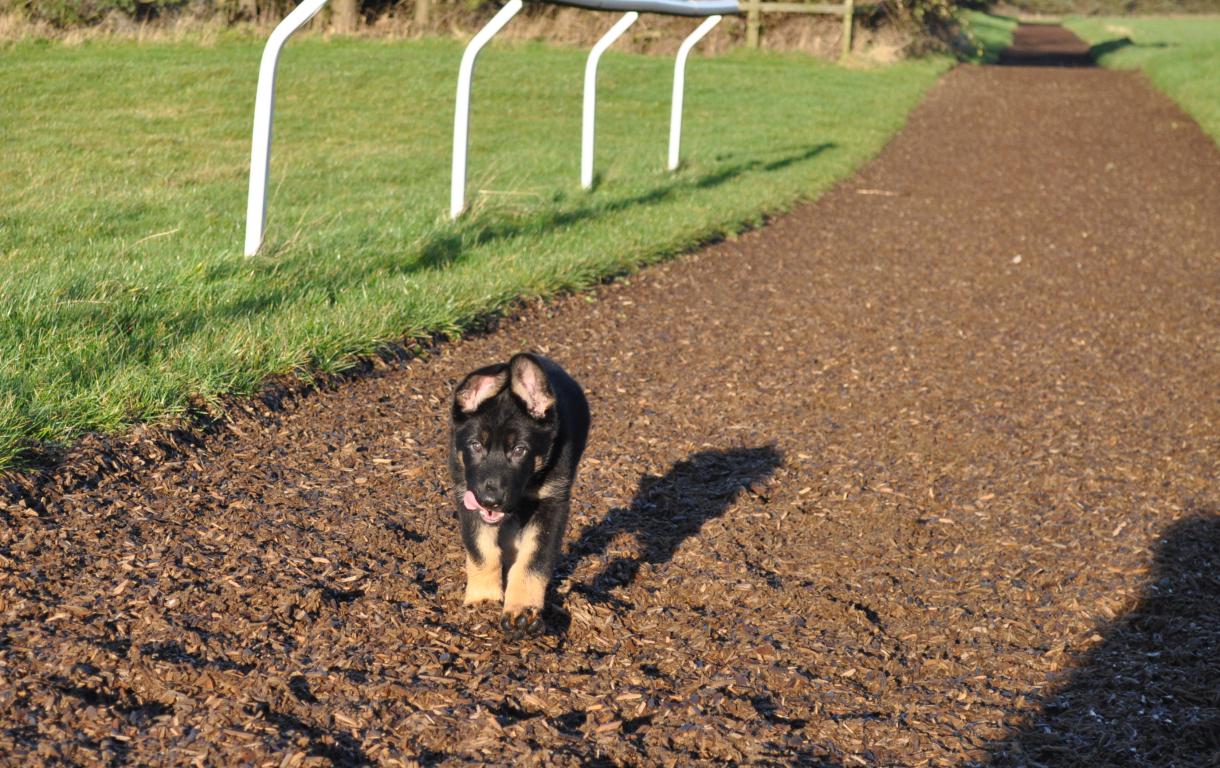 Come on Charlie, can you make it up the hill?!