"Mad and fearless"
10-September-2016
10-September-2016 17:20
in General
by Admin
"Mad and fearless" is how Richard Hughes described George in his Saturday column in yesterday's Racing Post, neither of which was meant as an insult, both of which were meant as a compliment and both of which happen to be true. The "mad" part of the statement refers to George wanting to ride in a race at the age of 69- although I am quite sure Richard was also harking back to the old days when George was riding, and was indeed considered to be "mad". The most widely used nickname for him for many years was "killer". His aggression, passion, fearlessness, determination and sheer bloody mindedness is exactly what made him so good at his job and, as Richard Hughes pointed out - nothing has changed.
In the run up to the race the press had great fun reporting on all sorts of amusing stories, all of which was newsworthy and involved all the jockeys to one degree or another and just about anyone else who was involved in the race. George and I were singled out because it was deemed incredible that I managed to get my husband on the horse I trained (in the ballot for who rides which horse), that alone created some interest and we even got a quarter of a page devoted to the situation in the Sun Newspaper on the morning of the race. The story headlined "My Old Duffer" said I was "gutted" to have pulled my husband! Of course it was all very tongue in cheek, the various stories raised a few eyebrows and a few laughs but, most importantly, it raised some money for the charity.
Red Charmer looked a million dollars and ran a great race- he finished third and was just done on the line for second in a tight photo. George was the only man in the line up I would have wanted on him and was certainly the fittest of all the riders. In fact he was even fitter than I thought he was. He was barely blowing when he returned having given the horse his typical, top draw, well planned and executed ride and he looked as strong as ever. He is, without a doubt the most incredible man and he thoroughly enjoyed every minute of his ride on Red Charmer who played his part to the letter.
The pair of them sat in the front ranks throughout the race while the eventual (and doubtless very well handicapped) winner led. Blinkered for the first time Joseph O'Brien's mount looked all out the winner but in the closing stages Red Charmer and Janaab with Peter Buchanan were catching them with every stride. Post race analysis said of Red Chamer
"Tracked leaders, headway to chase winner 2f out, ridden over 1f out, driven and kept on final furlong (op 16/1 tchd 25/1)"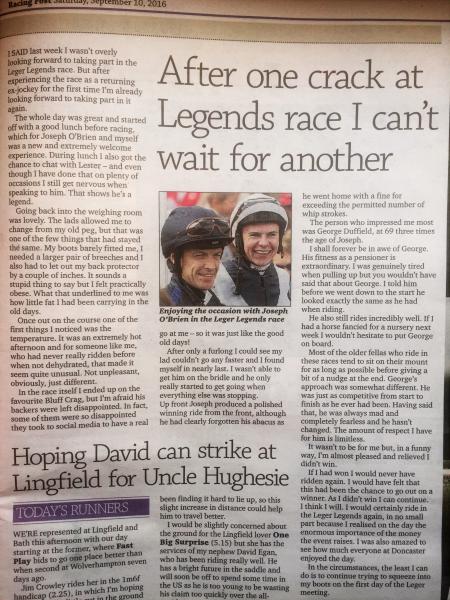 On Friday it was back to Doncaster for the Group 2 "Flying Childers" where our superstar "Rainbow Mist" lined up under PJ. He opened up at 50/1 which, given his form was something on an insult but the horse hadn't read the papers that morning and knew nothing of the misplaced betting guidance. Taking a lead he hit his almost customary flat spot (part weakness and partly the ground was not soft enough) but finished like a train in fifth, beaten only two and a quarter lengths. It was a tremendous effort.
At home on the farm the breaking in process has begun and "next years winners" are doing great. Hayley has videoed some of them and while the process requires Allen to move very slowly and quietly around the babies as he goes about his business of putting rollers on them, (some have already had rollers on at their stud farm, but we don't necessarily know that so we always assume it is their first time). This slow process can be boring to watch so Hayley has speeded the film up in parts and on occasions it looks like a "Benny Hill" movie. All we need are a few naked ladies running around the lunge ring. What a thought......Allen would be delighted.
The breaking in process begins... from Ann Duffield on Vimeo.