Where's Wally....?
11-January-2017
11-January-2017 17:17
in General
by Admin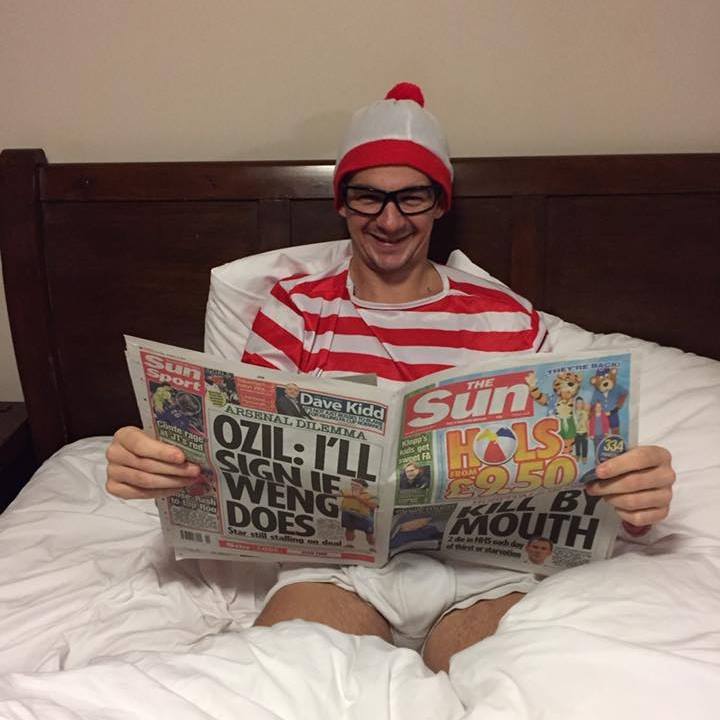 What a Wally!
If you're on facebook, have read the newspaper in the last few days, or have browsed the news section of the Racing Post app during your lunch break, you're likely aware of the hunt for 'Wally'. JJ McMenamin may now be better know as Wally and that is just one of the many names he was called at Sun Hill when he failed to turn in (more often than not) during his not one but two stints working here. The days that JJ did grace us with his presence, he was a likeable member of the team with a terrible singing voice, whose nonchalent attitude meant that he was very relaxed on the back of a fresh horse and was therefore half useful! Unfortunately JJ's 'alarm clock didn't go off' one morning in August during the Ayr Gold Cup meeting (I can't imagine the possible distractions an overnight trip to Scotland could provide!) and this was the straw that finally broke the camels back.
In the run up to Christmas, JJ was a 'wanted' man, not wanted by hordes of women as he may prefer but rather by the police. Keen not to spend the festive period in prison for his driving offence/s he decided not to hand himself in, deciding instead to evade local police. Over the weekend, a search helicopter equipped with body heat sensors was sent out to scour the area, along with on foot police and search dogs. Courtesy of one of his mates super-imposing his head onto a 'Where's Wally' cartoon, the news spread quickly that Wally was hiding in the Leyburn/Middleham area, thanks to numerous updates on JJ's facebook page taunting the police that he was close by. Of course we do not condone breaking the law but considering the crime, does the expenditure of such important police facilities and the financial costs involved not seem a little over-kill?
All came to a head on Monday with Wally/JJ handing himself in to the police, kitted out in the well known red and white stripes and glasses, whilst singing along to Lionel Richie's 'Hello...is it me you're looking for?' and documenting all via live-stream. Greeted by newspaper photographers and journalists, it's not really any surprise that this naughty lad has become 'famous' (or infamous I should say) for his escapades but it is quite ubelievable just how far and wide the story has spread - reportedly all over Europe and even so far as Australia! I'm sure JJ has enjoyed his time in the spotlight but given that he was held for a couple of hours and likely only received a slap on the wrist, I'm doubtful that he has learned his lesson!