MPR, Cheltenham and losing a colourful colleague
09-March-2017
09-March-2017 17:34
in General
by Admin
Middleham Park Racing host an early season open morning here at Sun Hill this coming Saturday when owners, potential owners or just interested parties can come along to watch their rather nice two year old on the gallops . The colt, by Dragon Pulse out of Bogini (who is by Holy Roman Emperor) is a proper two year old type. He is strong, really well put together, a great mover and has a good temperament with just the right amount of arrogance. He is often full of his own importance but in a good way, he loves his work, sticks his handsome head out on the gallops 'wanting' to go faster while doing everything easily, if a bit lazily but he keeps finding more when asked- a trait we like.
In fact he is doing everything I want him to be doing and long may that continue. He is certainly looking like he will be one of our earlier runners so this Saturday is a good time for his owners or anyone fancying a share in him for the summer, to see him being put through his paces. This time of year is without a doubt the most exciting time and its lovely when owners can see their horses progressing through each stage of their training, culminating in their appearance on the track.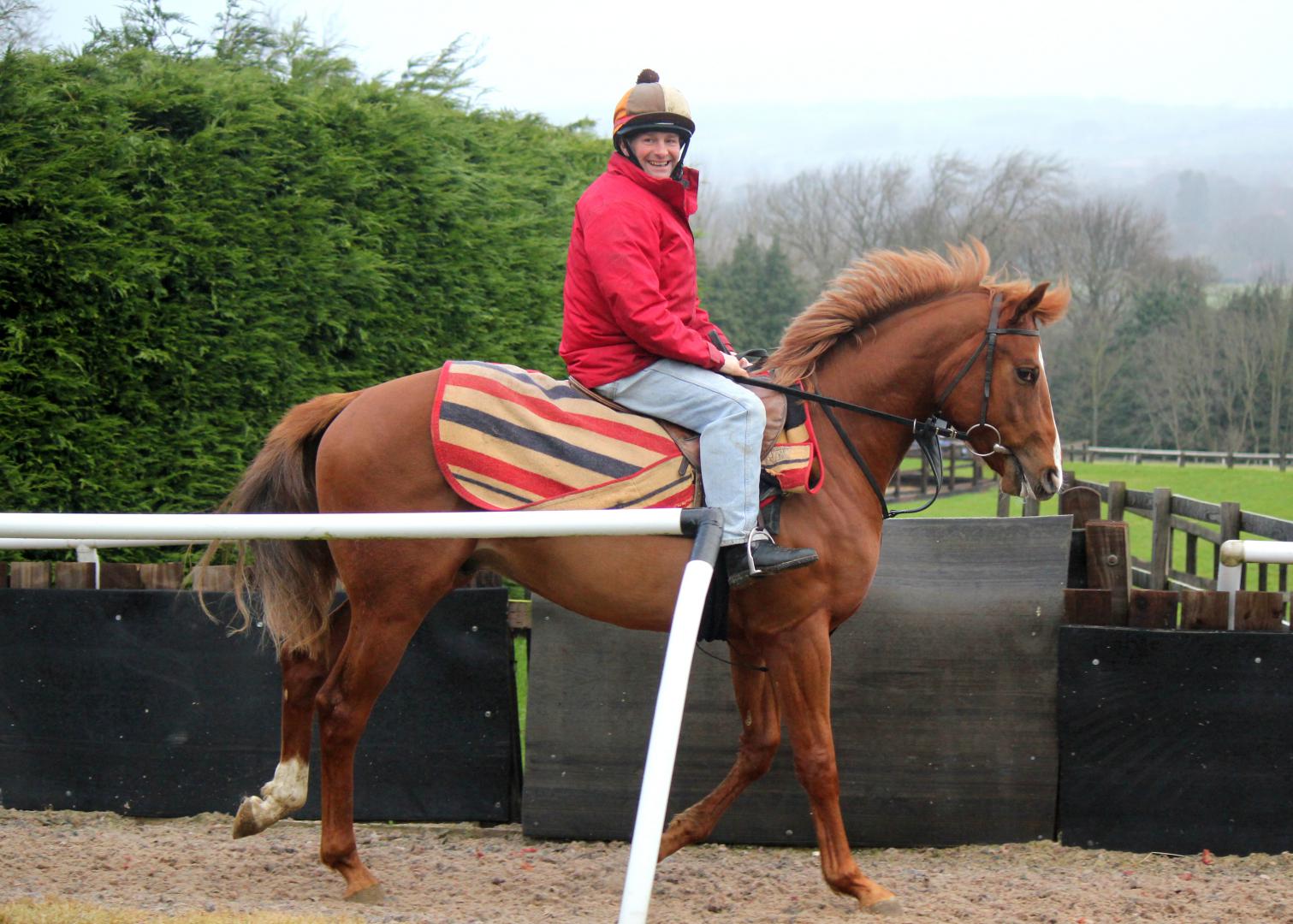 Anyone interested in visiting us to watch the horses this Saturday at 9am sharp, needs to contact Tim or Tom Palin at Middleham Park by emailing
pchinacastle@icloud.com tom@middlehamparkracing.net
Or email me on ann@annduffield.co.uk as soon as possible because we need to buy the buns for bacon butties!
Trainers are an interesting bunch, some might say we are 'odd'. We tend to be insular, entirely out of touch with the rest of the world and assume that nothing else really matters other than the horses in our care and the glorious sport of horseracing. Gossip among the ranks is generally rife, sometimes there is no smoke without fire, other times there is much smoke and no fire. So, when the rumour mill started about Dandy Nicholls packing up training no one took too much notice, yet when todays online version of tomorrows Racing Post went live with the story that Dandy is quitting training due to financial problems, it still came as a bit of a shock.
Dandy rode alongside George for many years and still calls him "dad". He has trained successfully from his yard at Thirsk for a very long time, he calls a spade a spade in true Yorkshire fashion and is a 'real character'. He will be sorely missed and the owners and trainers bars and facilities will be quieter places without him. I have no idea how much the non-payment of training fees is involved in his decision to quit and if so, how much this might have added to the financial problems he has cited as his reasons for leaving the training ranks, but it is certainly the biggest reason behind trainers leaving the sport generally, and one which our regulatory body-the BHA is very concerned about. Concerned enough to be currently looking at various interesting options.
As the next president of the Nations Trainers Federation I am determined that my own experiences with these issues are put to good use and that trainers, with the backing of the BHA can finally have a contract which is both fair and robust in a commercial world and that better steps are taken to reduce the number of owners who simply don't want to pay their dues.
Luckily for us, we have fantastic owners but it hasn't always been the case. Whatever the situation is with Dandy, we wish him all the very best of luck anyway.
While Dandy is stepping away from the stresses of producing horses to race there are many other trainers gearing up and putting the finishing touches to their strings for next weeks Cheltenham Festival. It is the greatest national hunt meeting in the world, eclipsed momentarily only by the Grand National, it is probbaly the only time the phones at Sun Hill will be off the hook.