Foals glorious foals.
03-December-2017
03-December-2017 17:45
in General
by Admin
Europe's Leading Foal Sale took place last week at Newmarket
(November 29 - December 2nd) with almost meteoric prices including one foal by Dubawi who made 750.000guineas - cheap at half the price! John Gosden signed the ticket for this half sister to Jack Hobbs on behalf of Sheikh Mohammed. Johnny G has had a serious couple of years and is heading up the "super league" of trainers whose string has stretched into the hundreds. As Oliver Sherwood said in his very interesting and excellent RUK interview on Friday, the top trainers of yesteryear would "turn in their graves" at the thought of a trainer handling several hundred horses but things have changed markedly and where once a trainer of 80-100 horses was the exception, not so now with the 'big' trainers heading up a string of several hundred horses.
Personally foals are not my thing but I like to keep an eye on the breeding and foal sales because it is always a good indication of what is to follow. Expensive foals and ultra strong trade usually means the price increases are passed on- obviously until the market crashes and we see a "correction" I have been around long enough to see several "corrections" in the bloodstock world and it is never pretty.
A recent sales preview is below while underneath that Charlie is seen muscling in on our "Staff Curry lunch" on Saturday when Pradeep made his delicious curries for us all again, this one was washed down with champagne, wines and beer (and water for those who don't drink- of course!)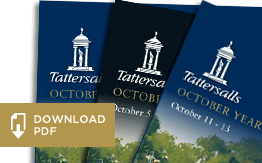 Rises Across the Board at Tattersalls December Foal Sale
There were rises across the board at the Tattersalls December Foal following a final session that saw 167 lots sell for 3,534,200 guineas. That took the four-day turnover to 32,668,200 guineas for the 742 lots sold, a rise of 7%. The average rose 7% to a record 44,027 guineas whilst the median rose 19% to a record equalling 25,000 guineas.
The top price during the final session of the Tattersalls December Foal Sale was 110,000 guineas for lot 1150, the IFFRAAJ filly out of the Listed-placed OASIS DREAM mare ARABIAN MIRAGE. Consigned by Simon Sweeting's Overbury Stud, the filly was bought by Norris/Huntingdon as a pinhook prospect and matches the top price at this session last year.
I have promised the staff that when 121 workwear "finally" move their burgeoning operation out of Sun Hill and into the swanky, state of the art, gym including offices with warehouse that they really need (currently under construction) we will convert their embroidery factory into a colossal tack room - so gigantic that we can build a new kitchen in one corner for lots of "Pradeep curry dishes" with a few "Dales delights" from Trinidad and James's speciality "cook ups". Allen is a bit of a chef too and can turn his hand to most dishes, Anna and I will be head of the "sampling unit" and do the washing up.