Charity race jockey in training
02-March-2016
02-March-2016 11:38
in General
by Admin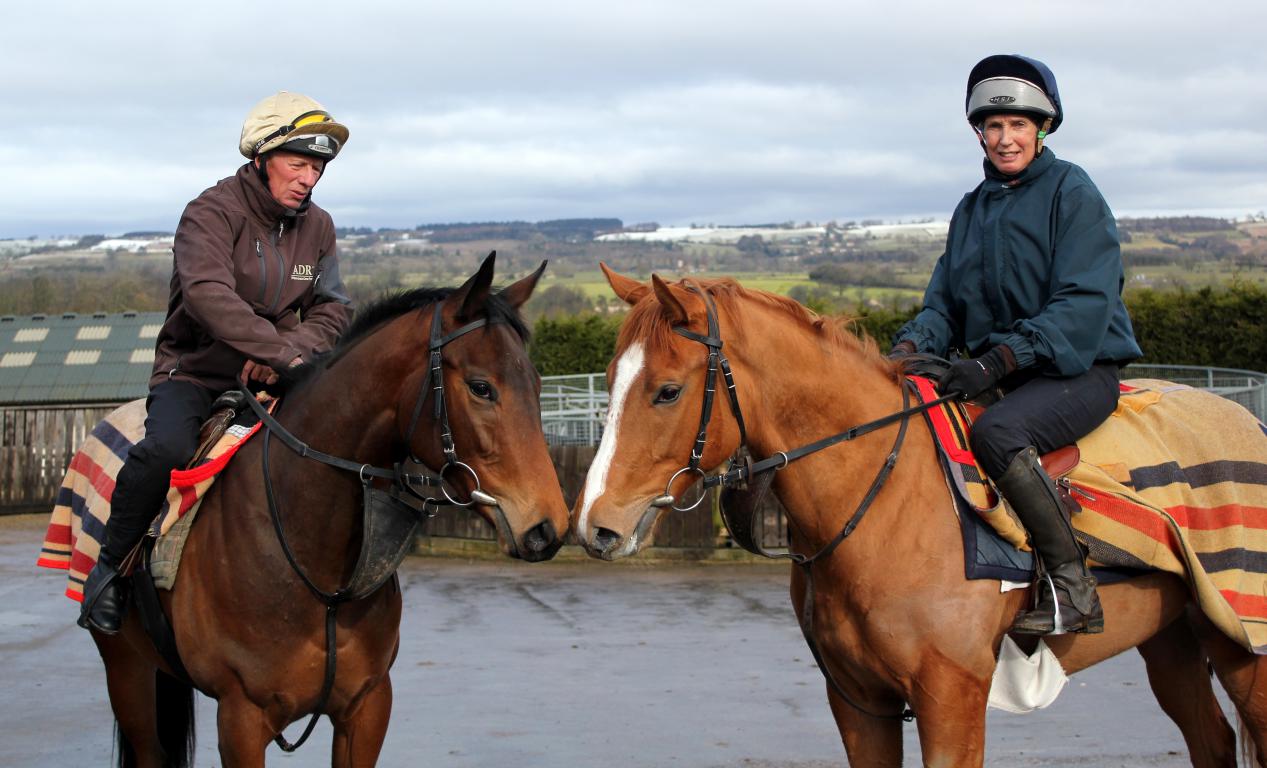 George loves a challenge and many years ago I presented him with a huge one. He had to get me fit enough and ready to win a race. The race in question was for Spinal injuries and only former jockeys or trainers were invited to take part. I managed to ride in three of them, raising just over twenty five grand in the process, before calling it quits after winning the third one. Those days I was riding racehorses daily and had been for many years but even so, the old boy nearly killed me. He is a hard task master and had me riding out more lots per day than there were days in the week. As well as all that he had me pushing the hunters up the gallop as fast as their hairy legs could take them, not an easy task on a horse that doesn't "carry you" like a racehorse does. What a sight we must have been. When D day came George was a nervous wreck of a man, the other guys and a couple of girls lining up were all ex professional jockeys, it was great fun and I did ok but I had to wait until the third attempt before I could put daylight between me and the rest of the field where it mattered. The race was held over the straight mile at Doncaster, the horse was good old "Constable Burton" (he won five races for us both on the flat and over hurdles). The ex pros were all quite sure I had gone 'too fast' after setting off to make the running, and that there was 'no way' on earth the relentless gallop could be maintained. Luckily for me it was, and we won easily, the only problem was, I dare not dismount for ages because I would not have stood up for long. No one ever tells you just how super fit jockeys have to be, but trust me, I "know" .
George's next challenge was a hunting friend "Daphne Bourne-Arton" she lined up at Newcastle against hunt staff. George had trained Daphne well too because she also led from pillar to post and won easily on our filly "Hels Angel" a winner of five races for us, and later became the dam of Heaven Scent. Now it is the turn of another hunting friend "Christine Swiers", wife of former top amateur jump jockey Stephen Swiers, Christine is a great rider and seriously fit, she is also riding out three days a week as well as running miles but even so George will be piling on the pressure soon. God, I am so glad it is not me!
Please do give Christine a bit of help by sponsoring her on her Just Giving page. She is also baking cakes for our upcoming open days (MPR this Saturday and ICM next Saturday) so do please come along and buy some of her cakes.
https://www.justgiving.com/christine-swiers/