Babies and more babies
01-September-2016
01-September-2016 11:18
in General
by Admin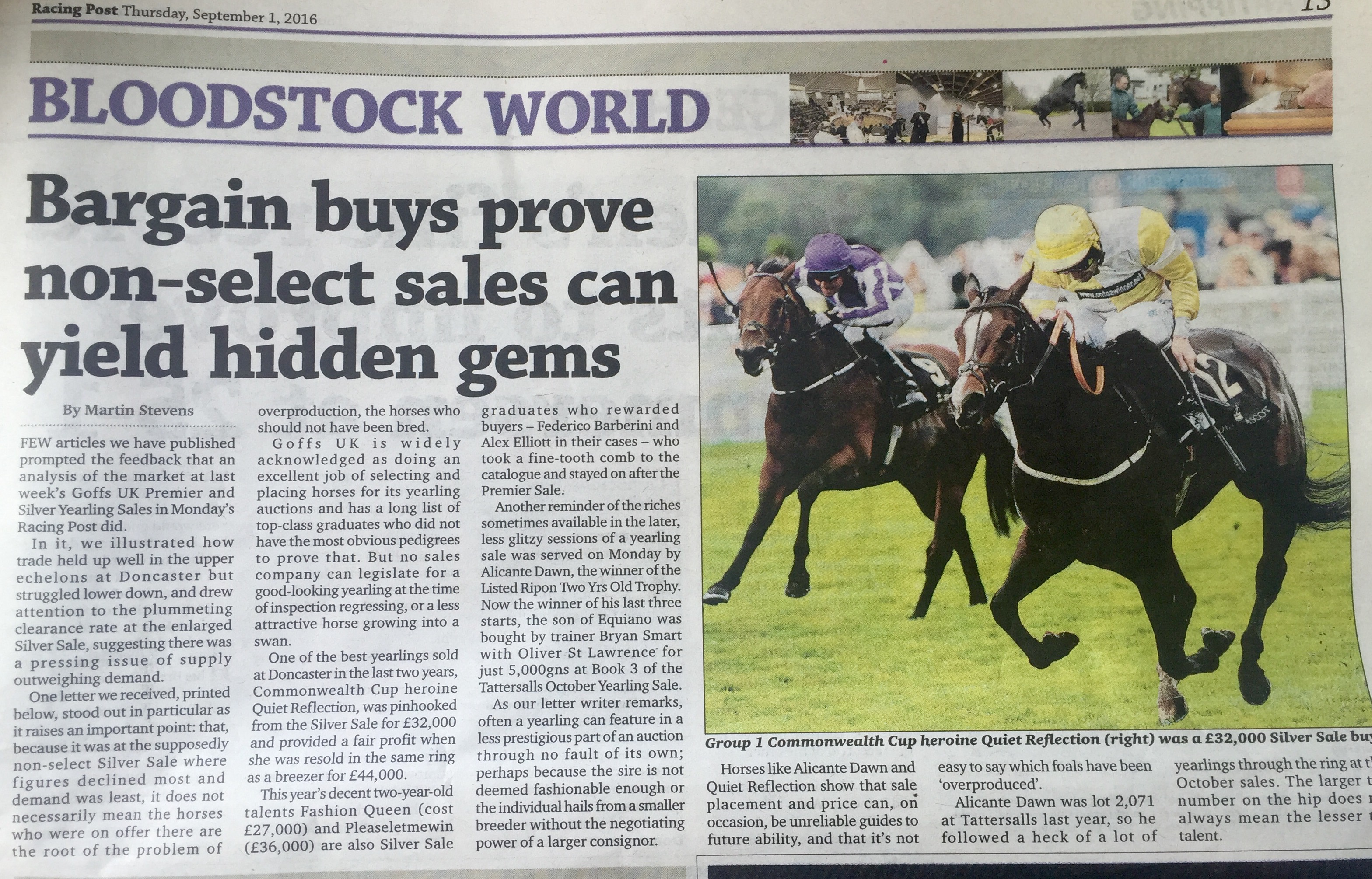 This interesting piece above (and below) appeared in this mornings Racing Post and quite right it is too - although it is not enirely "new news". But, neverthelss it is good that these issues are being highlighted, one thing the article doesn't mention however, is how few trainers buy "on spec" these days. In recent years, we have heard more and more trainers say they will not buy unless they are filling an order, so when the agents and the few trainers who are buying, have looked at or bought the obvious candidates (i.e as close to perfect conformation as possible, nice looking, well grown, good pedigrees etc) it leaves a whole raft of perfectly nice, racy yearlings, often by first season sires - in its wake with fewer and fewer people to buy them. Yet often these are the ones most owners want. Good, solid racehorses with potential, and herein lies some real value because these are the horses this article is referring to. Add into the mix a lack of trainers willing to put their hand up for fear of not then finding owners for them, and hey presto you have some really cheap horses, some of whom will, without a shadown of a doubt beat many of their highly priced counterparts next Summer.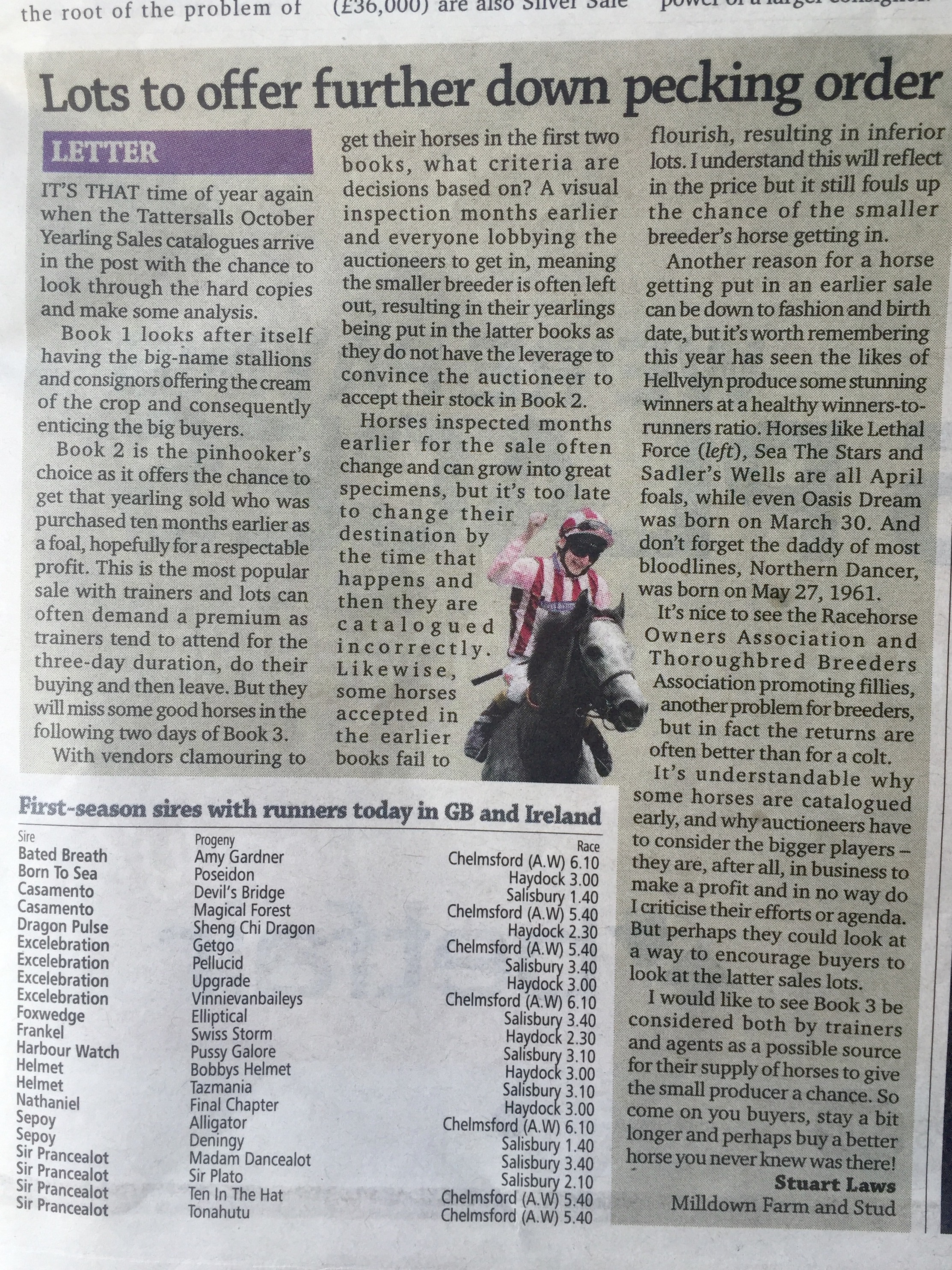 Personally I am delighted with our purchases and, after seeing them all on the lunge in the last two days and watched some of them improve already, I can't wait for us to get going breaking them in. Hayley is busy uploading their pictures and video's onto our website so you can see them for yourself here.
For us the lower end of the market at both yearling and breeze up sales has consistently produced some very decent winners like Rainbow Mist- Willie The Whipper- Risk Adjusted- Hels Angel- Lady Rangali- Marsh Pride-George Dryden- Silhuette- Cuppacoffee- Indigo Nights- Focusofourthoughts- Kayo koko- Encantar- Just lille- Searanger- Kings Mimic- Bronte Flyer- Chant- Heaven Scent- Scruffy Mcguffy- Letbygonesbeicons - Young Windsor- Lollamotion- Lady Montenegro- to name only a very few, and all of whom cost less than 20k and, in many cases they cost an awful lot less than 20k.
While our Group and Listed performers "Dark Reckoning and Zenella" both cost less than 35k, the diminuative, beautiful homebred by an unfashionable sire (Haafd) "Melody of Love" also won us a Group race.
Meanwhile the NTF have just announced that the TBA, in conjunction with racecourses and the BHA "will be piloting two races in September 2016 to support small breeders. The races for two-year-olds will take place over a distance of seven furlongs and be open to horses sired by a British-based stallion which at the time of covering was advertised at a fee of £15,000 or less.
The Conditions races will offer 3lb weight allowances for each £5,000 reduction in the stallion fee: horses whose sire's nomination fee was £10,000 or less receive a 3lb allowance and those advertised at £5,000 or less receiving a 6lb allowance. Previous winners will carry a penalty. The races will provide valuable race opportunities for smaller owner breeders and for purchasers of affordable horses, its just a shame both races are in the South at Goodwood and Newmarket but nevertheless it is a fantastic idea and when rolled out fully will be beneficial to the small breeders.
On the yard, George has been ferating around the tack room look for a heavy saddle ahead of his ride next week in the "Leger Legends" race and is looking forward to the day enormously. His last minute sponsorship money is coming in quite quickly although he hopes to raise more in the next week.
You can visit George's Just Giving page if you would like to support him.
"Miss Bates" ran a cracker under Rowan Scott last night when just failing to win by a short head whilst giving weigh away all round and "Panther In Pink" ran well to finish fourth on her rather belated debut at Ripon on Tuesday night. Philip Bamford, part owner in the filly had very kindly sent "Annabelle" - Jen Bianco's gorgeous baby girl a very appropriate gift, The "other" Pink Panther also made it's racing debut on Tuesday.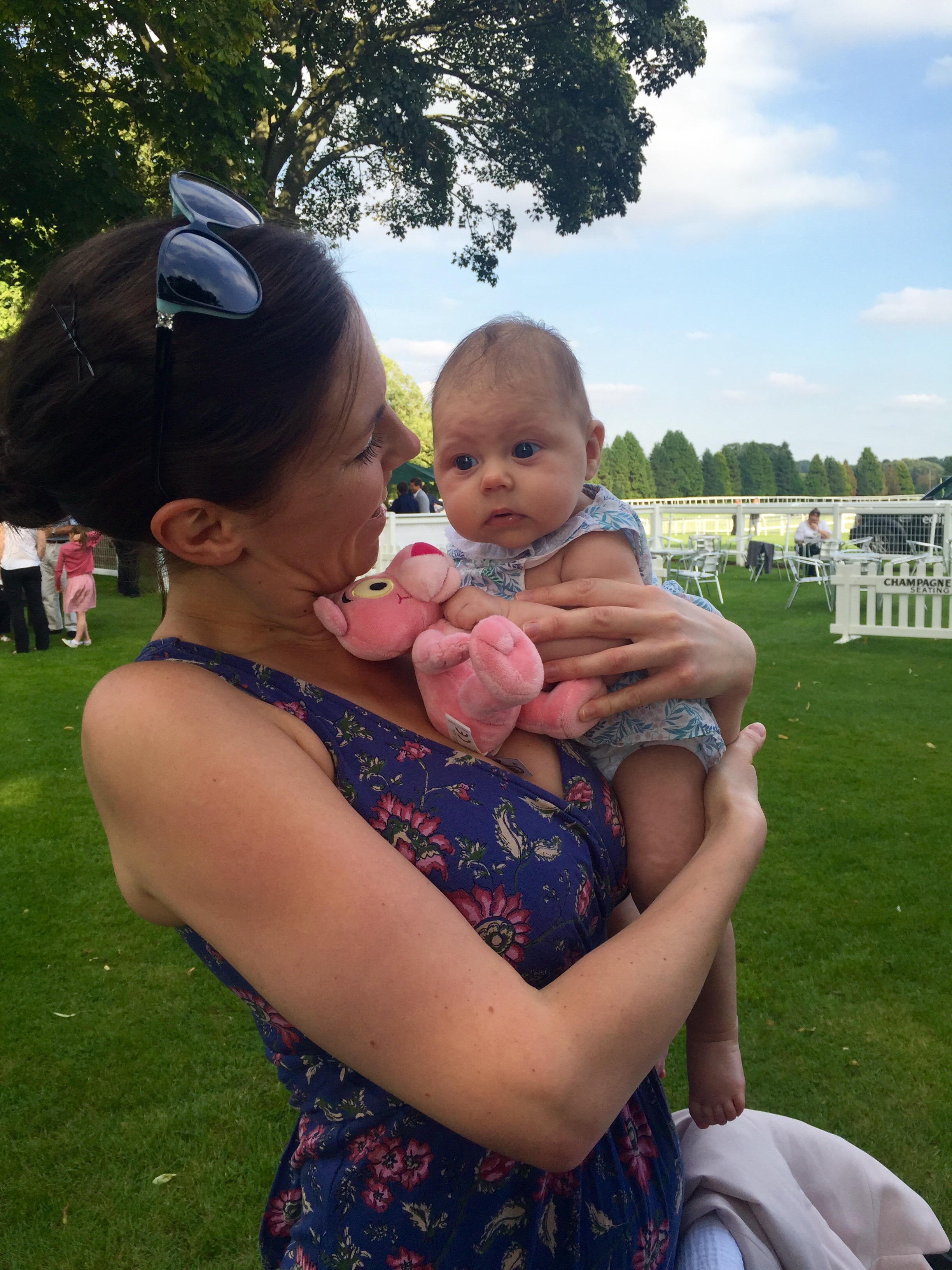 Jen Bianco and "Annie", supporting 'Panther In Pink' with their very own Pink Panther.