Pastures New
28-August-2020
28-August-2020 17:53
in General
by Admin
One of the headline stories in the Racing Post features jockey "Saleem Golam" a super lad who rose to prominence via the support initially of trainer Mark Thompkins but who has exchanged his boots, gloves, hat and whip for a comb, a razor, scissors and bucket loads of shampoo. Saleem rode for us a great deal back in the day, booting home plenty of winners including the effervescent and hard to hold "Jubilee Street" whose nickname on the yard was "Bucket Head".
Saleem, a former champion apprentice has quit riding abroad to become a barber and perhaps best known to many in racing for sharing the accolade of 'Champion apprentice' with Hayley Turner. Apparently Saleem is aiming to "cut the hair of Newmarket trainers rather than partnering their winners" - problem is, training horses in Newmarket and elsewhere is tougher than ever so chances are the trainers whose locks he thought he might chop off won't have any left by the time Covid is finished with racing.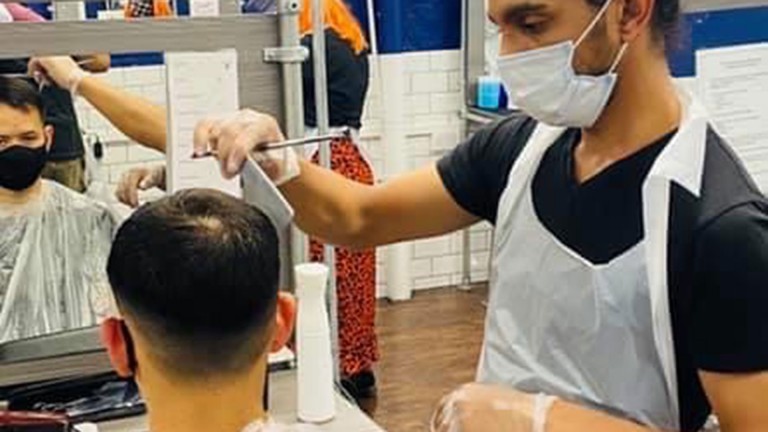 I remember him winning on "Jubilee Street" as if it were yesterday. The horse had been sent to us by one of his syndicate owners "Dave Holdsworth" who had bought his partners out when they became disillusioned with the horse's performance with his then trainer, the late "Dandy Nicholls". Having run 16 times winning once for "Dandy" he was written off as a 'waste of time' but for some reason Dave Holdsworth loved the horse and never lost faith in him. His first race for us was under that chap "George Duffield" (who hasn't gone on to be a barber but who is a dab hand with a lawnmower).
On his fourth run for us he won under Saleem at Doncaster and started his ascent up the ranks winning nine races fir team D including the Carlsburg Straight Mile Championship race at Redcar (which from memory it was a 40k added race a mere 16 years ago!) . He soon left the rating he arrived here with (51) well behind him and reached a rating in the mid 80's before the whole racing game started to get to him a bit and he became very unruly in the stalls.
He is still enjoying his retirement nearby and did his owner proud until he passed away far too soon. He was a great owner and a lovely man.