Surprise pies and an introduction to a new face
15-June-2020
15-June-2020 15:04
in General
by Admin
Please meet 'Andrew Elliott'.
We haven't had too many stable jockeys, or apprentices for that matter, but among those we have had the pleasure of working with are "Silvestre De Sousa" who joined us after his split from Dandy Nicholls. He was a little known jockey at the time and worried that he might not get going again, but it was crystal clear to us that not only would he get going, but that he was more than capable of going on to achieve great things. We were not wrong and he booted home plenty of winners for us before disappearing onto the big stage riding for major players.
Royston Ffrench did well for us too and still casts his net far and wide in the pursuit of winners. Jockeys need support getting established or to re-establish themselves after a quiet spell or after riding abroad (and in one case we were involved with in getting a jockey going whose relationship with a rather unpleasant trainer had robbed him of his confidence and whose agent was sufficiently concerned about him to call me).
Similar had happened to George when he was a young man making a name for himself. His confidence hit rock bottom when riding for an 'unhelpful yard' and it took herculean effort, strength of character and a lot of outside support to come back from it, after that he became stable jockey to Sir Mark and the rest, as they say....."is history".
Life throws us all curve balls, I have had 'one or two myself' and in Andrew Elliott's case, he is hoping to re-establish himself in the UK after lengthy winters in Bahrain, where he has done particularly well riding a lot of winners and only missed out on being Champion jockey this winter by 'one'!
As a small yard we can't make promises to jockeys or pay retainers and our owners often like to have their say in who rides for them, but we do like to have a regular jockey if we can and Andrew will get plenty of opportunities. He is riding out three mornings a week and has slipped into our routine quickly, he also rode a winner on his first day back and managed to keep very fit during lockdown in Bahrain.
Andy Elliott and family with Arnold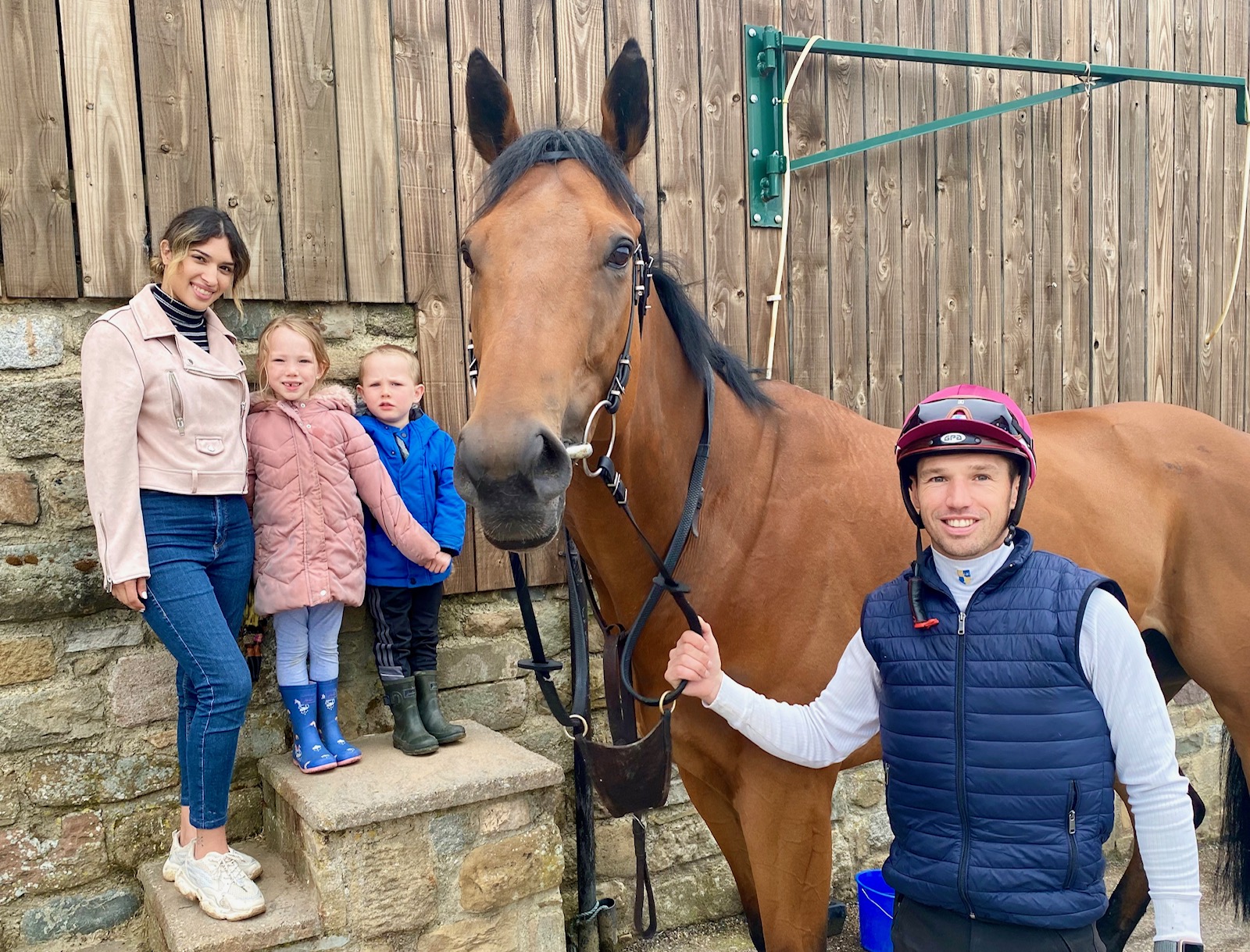 On the other hand myself, our owners and staff might not find keeping slim and fit so easy, especially after the arrival today of the most delicious meat pies thanks to Ian Smith (part owner of Troop and Arnold). The pies were made at MW Nowell in Hartlepool and, in my opinion, must be the best thing ever to come out of Hartlepool!
Ian had written the names of the recipients of each pie on the boxes including one labelled "Arnold" and "Troop". I thought Ian was joking but he was deadly serious and was pretty miffed when I laughed and told him horses don't actually 'eat pies'. His reply was instant "but they are made using only the best steak!" – as if that would make a difference!
It was hilarious, it beats my mother trying to feed my first pony "Bambi" beans on toast!